Berry Chocolate Coconut Granola
As soon as I saw this granola recipe pop up on Annie's blog, I knew I needed to make it.  Buying granola at the food store is so expensive, but it's a breakfast food that we really love.
This homemade granola tastes so much better than the store bought varieties and is much healthier for you – a major plus in our book.  I've tried this out with various kinds of dried berries, depending on my mood each time I've made it.  It's excellent with cherries, cranberries, or our personal favorite blueberries.  I've also tried different combinations of nuts.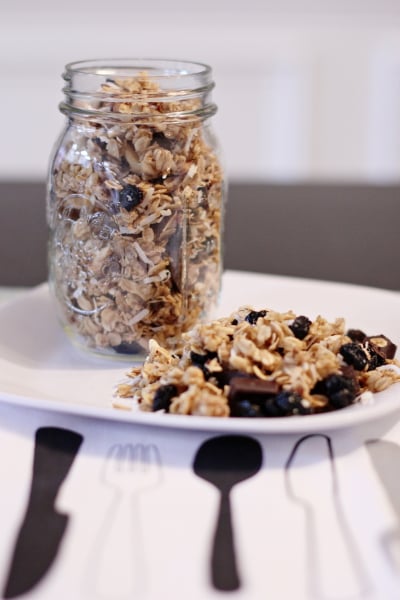 We like this granola so much that I make it about every two weeks, so that we always have a batch in the house.  While I prefer it with milk for breakfast, it is a great snack to bring to work (and of course is excellent over yogurt).  Give this a try – I bet you won't go back to store bought granola.
Oh, look who it is.  Someone likes the smell of granola.
Yield: approximately 14 cups
Berry Chocolate Coconut Granola
Recipe for berry chocolate coconut granola. Make this store-bought staple at home! Healthier, cheaper and filled with nuts, dried fruit and chocolate!
Ingredients:
2 cups shredded unsweetened coconut
½ cup walnuts, coarsely chopped
½ cup almonds, coarsely chopped
½ cup pecans, coarsely chopped
6 cups old fashioned rolled oats
6 tablespoons canola oil
½ cup honey
½ cup maple syrup
¼ cup ground flaxseed (optional)
½ teaspoon ground cinnamon
½ teaspoon salt
1 ½ cups dried berries (cherries, blueberries, cranberries, etc.)
4 ounces dark chocolate, coarsely chopped
Directions:
Preheat the oven to 325 degrees. Line a large baking sheet with parchment paper. Set aside.
Using a large skillet, heat the pan over medium heat. Place the coconut flakes in the skillet in an even layer. Cook, stirring frequently, until light brown and toasted. Transfer the coconut to a small bowl. Set aside.
Return the skillet to medium heat and add all of the nuts. Cook, stirring occasionally, until light brown and toasted (about 4 minutes). Add in the rolled oats and canola oil. Continue to cook, stirring occasionally, until the oats are also lightly toasted (about 4 more minutes).
Place the oat mixture into a large bowl. Add in the honey, maple syrup, flaxseed (optional), cinnamon and salt. Stir until well combined. Spread the mixture evenly on the baking sheet. Bake for 15-20 minutes, stirring approximately every 5 minutes, until it is light golden brown.
Remove from oven and stir in the toasted coconut and dried berries. Press into an even layer on the same baking sheet. Let the granola cool to room temperature. Break into small pieces and mix in the chocolate. Store granola in an airtight container.