Homemade Vanilla Extract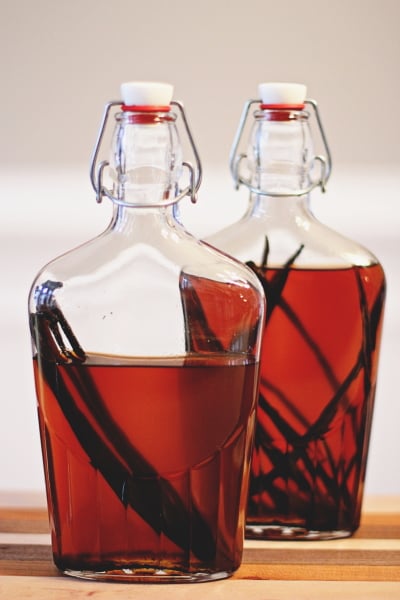 With all the baking that I do, I go through a lot of vanilla extract.  And it always hurt a little when I bought it from the store – how can that little bottle be so expensive?
While I've seen the recipes for homemade vanilla extract on numerous blogs, for whatever reason I never tried it myself.  Way back in the Fall I visited my cousin and discovered that she had made her own vanilla extract.  That was the push I needed.
I will never go back.  It's super easy to make your own extract and much more economical.  While vanilla beans at the grocery store are very expensive, you can buy them in bulk online (I buy mine through Amazon) for much less.  The only other ingredient you need is vodka – and the cheap kind works great (no need to buy the expensive stuff for this).
Making your own extract takes some planning ahead as it needs quite a few weeks to develop.  However, the results are well worth it.  I have two large bottles of homemade vanilla extract that I keep in rotation (refreshing as I need) – which keeps me stocked at all times.
How cute would smaller bottles of these be tied with a gift tag and ribbon?  Would make a great gift for those bakers in your life.
Homemade Vanilla Extract
Recipe for homemade vanilla extract. Make this store-bought staple at home! So simple and much cheaper!
Ingredients:
bottle or container with a tight fitting lid
vanilla beans (one vanilla bean per every ⅓ cup of vodka)
vodka
Directions:
Using a sharp knife, split each vanilla bean in half (leaving about ¼ to ½ inch on each end intact).
Place the appropriate number of split vanilla beans in a container (*for every ⅓ cup of vodka, add one vanilla bean). Pour in the vodka.
Close the container tightly and then place in a cool and dry location for about 6-8 weeks. Occasionally give the container a shake.
Once you start using the extract, refresh as needed with more vodka or a vanilla bean (I'll replace a vanilla bean or two when I finish the bottle).