Homemade Vanilla Syrup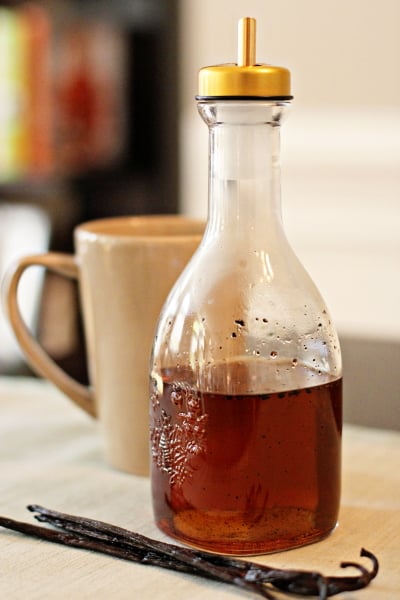 We are big coffee drinkers and have come to love those vanilla (or other) flavored coffee creamers.  However, even though we love them, I've always been a little uneasy over all the unpronounceable ingredients.  Not to mention, with the amount that we go through, they are fairly expensive.
I decided to give this homemade vanilla syrup a try and I'm so glad that I did.  I know every single ingredient that is going into it and even better it tastes amazing.  We use this in both hot and iced coffee, along with some milk.  I especially love this in iced coffee since it's a liquid sweetener and it actually dissolves (so you're not left with bits of sugar in your iced coffee… a huge pet peeve of mine).
I'm happy to report that we have completely stopped buying any store bought flavored coffee creamer.  This stuff is just that good.
Homemade Vanilla Syrup
Recipe for homemade vanilla syrup – for coffee and other beverages! Full of vanilla flavor and made with just a few simple ingredients!
Ingredients:
1 cup sugar
1 cup water
1 vanilla bean
1 teaspoon vanilla extract
Directions:
In a small saucepan, add the sugar and water. Split the vanilla bean lengthwise and scrape out the seeds. Add the seeds as well as the pod to the saucepan. Heat the mixture over medium high until the sugar has dissolved, stirring occasionally. Then turn down the heat to low and let simmer for about 10 minutes. Remove from the heat and mix in the vanilla extract. Let the syrup cool completely. Remove the vanilla bean pod and then store in a container in the refrigerator.