Staff Retreat 2012 – Cooking Class at CulinAerie
Every year our office has a staff retreat during the summer months.  We've done a pretty wide variety of activities for these retreats over the past few years, such as a yoga class, bowling or a lunch cruise on the Potomac River (which slightly reminded me of that episode of The Office where Michael takes everyone on the team-building evening cruise – the onboard entertainment was just as cheesy – sparkly vests and all).  We always have a lot of fun and this year was no exception, particularly as we did a cooking class in downtown DC.  Right up my alley.
We actually did a cooking class for a retreat about 3 or 4 years ago, but at that point I still had no idea what I was doing in the kitchen.  So this year I was pumped.  Getting to spend the afternoon making a three-course meal (and having the rest of the day off)?  Yes, please!
We took the class at CulinAerie, which was led by Susan Holt.  She also taught our class last time and is pretty awesome.  I picked up a few new tips and tricks, and of course now want some fun new tools for my kitchen.  Like a torch.  Can we talk about how much fun it was to use one for the dessert we made?  I need one a.s.a.p.
Our menu for the day was as follows:
– Appetizer: Mushroom and goat cheese tart
– Main Dish: Seared sirloin with arugula, blue cheese and crispy shallots
– Dessert: Brulee of berries
Below are a few pictures taken with my iPhone (and edited with Instagram).  There are also a few that were taken by my co-workers who were kind enough to share with the group.
Here's our appetizer and main dish.  I ate the dessert too fast to even get a picture.  Whoops.
This picture cracks me up.  We were clearly ready to eat at this point.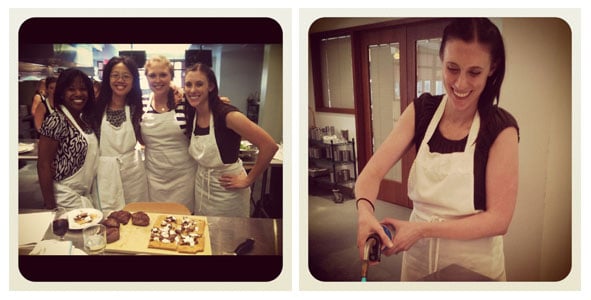 "Team 1" for the day.  And me getting to use a torch.  I highly enjoyed myself.
One final group shot.  And yes, I work in an office with all females.