Gluten-Free White Chocolate Snack Mix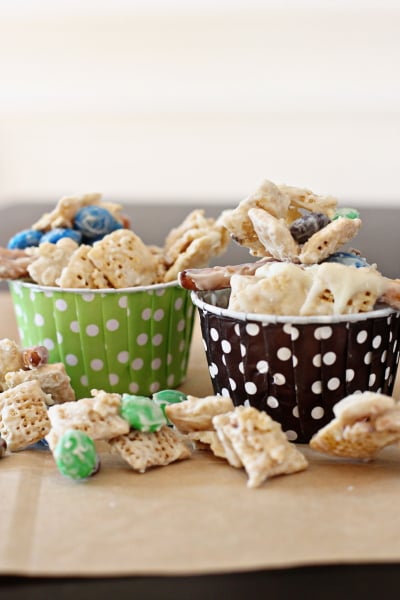 This snack mix was a last minute addition to the menu for my cousin's baby shower.  I wanted to have a dessert option that my sister could eat.  She needs to follow a gluten-free diet and I didn't want to add any more baking projects to the list of things I already needed to do.  Especially when it was for one person.  Sorry JR.  So I chose this purely for the simplicity factor.  This mix ended up being the most popular dessert of the day.  Go figure.
I'll admit that I was a little annoyed since I spent all this time baking cupcakes and decorating cookies.  How could a snack mix be more popular?  Then I found myself frequently sneaking into the kitchen after the party to munch on the leftovers.  It's incredibly addicting.  Now I understand.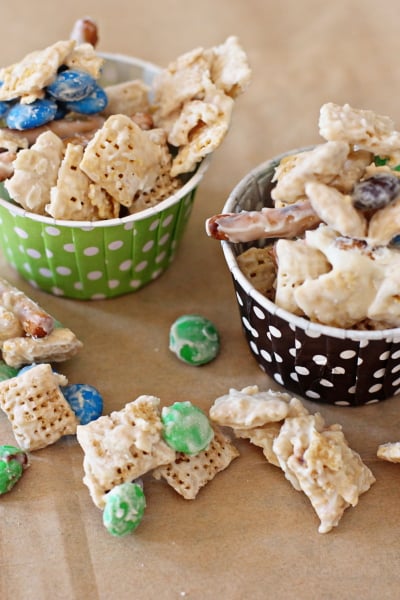 This snack mix takes less than 15 minutes to pull together.  You throw all the ingredients into a large bowl, melt some chocolate and toss to coat.  Lay it out on wax or parchment paper to dry and you have yourself some dessert.  While I still prefer cupcakes and cookies, I'm happy to have found an easy dessert option that my sister can enjoy.
Yield: at least 12 servings
Gluten-Free White Chocolate Snack Mix
Recipe for gluten-free white chocolate snack mix. Pull together this easy sweet & salty dessert in 15 minutes or less!
Ingredients:
4 cups rice chex
4 cups corn chex
2 cups gluten-free pretzel sticks
2 cups M&Ms
20 to 24 ounces white chocolate
Directions:
In a large bowl, add the chex cereal, pretzel sticks and M&Ms. Mix to combine.
Add the white chocolate to a microwave safe bowl. Microwave at 50 percent power for 30 second intervals until the chocolate is completely melted. Pour the melted chocolate into the bowl with the cereal and mix until everything is coated. *I used closer to 20 ounces of chocolate, but melt and add more if the mixture is not well coated.
Spread the mixture out onto parchment or wax paper. Allow to dry completely and then break into small chunks. I prefer to store this mix in containers in the freezer, but it should also be fine at room temperature or in the fridge.
You can substitute other gluten-free chex cereals for those listed above. Please be sure to read all the ingredients on each item to ensure they are gluten-free. I'm still learning when it comes to gluten-free recipes and made sure to double check each item used.