Homemade Hot Fudge Sauce
My husband often jokes that I've "ruined" our ability to be lazy and buy items from the grocery store that instead can be made at home.  The store bought versions of these products usually pale in comparison to their homemade counterparts.  Like bread.  Or granola.  Or ice cream.  Yes, life gets in the way and we buy these items from the store when we need to.  But then the whole time we're wishing we had the homemade versions instead.
We can now add hot fudge sauce to the list of items effectively "ruined" by all my cooking and baking.  Seriously, this stuff is good.  Very good.  I'm not usually a hot fudge kind of girl – I prefer my ice cream without any added toppings.  But if I have this hot fudge in the fridge you can bet I'll make an exception.  And now there is no way I can go back to any store bought varieties.  No way.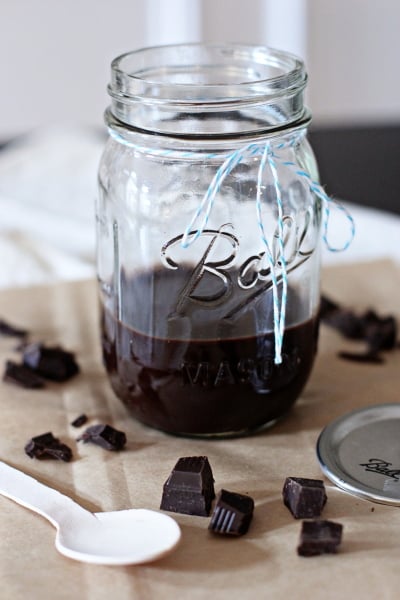 As an added bonus this hot fudge is easy and quick to make.  And you likely have the majority, if not all, of the ingredients already on hand.  This is the perfect topping along with some sprinkles for your favorite ice cream.  Or, you can save some and I'll show you on Wednesday how to use it to make one heck of an ice cream pie.  You're definitely going to want to save some – the pie is pretty darn amazing.
Homemade Hot Fudge Sauce
Recipe for homemade hot fudge sauce. This homemade version blows the store-bought stuff out of the water in taste! And it's easy to make!
Ingredients:
¾ cup heavy cream
¼ cup packed light brown sugar
¼ cup Dutch-processed cocoa
½ cup light corn syrup
3 ounces bittersweet chocolate, chopped
3 ounces good quality milk chocolate, chopped
2 tablespoons unsalted butter
½ teaspoon vanilla extract
Directions:
In a saucepan, combine the cream, sugar, cocoa, corn syrup and half of each kind of chocolate. Bring to a boil. Reduce the heat and gently simmer for 5 minutes, stirring occasionally. Turn off the heat and add in the remaining chocolate, butter and vanilla extract. Mix until completely combined and smooth. The sauce will thicken as it cools down. You want it to be warm (and not hot) before serving, otherwise it will just pool at the bottom of your ice cream dish.
Store the sauce in the refrigerator in an airtight container. It will keep for about two weeks. To reheat, microwave for a few seconds at a time. Again, you just want to warm the sauce enough so that you can drizzle it over ice cream.