Peanut Butter Oreo Ice Cream Pie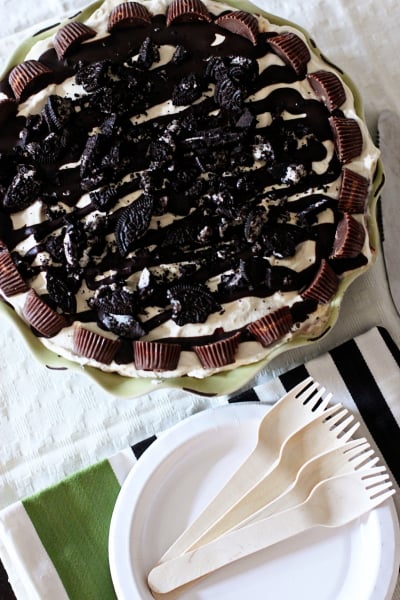 This pie, no ice cream maker required, made for one amazing birthday cake.  For me.  Yes, I make my own birthday cake and I'm totally cool with it.  Plus, this year I needed something extra special seeing as how I am inching closer and closer to the big 3-0.  A little too close for comfort.  Seriously, I don't like it.  Not one little bit.
I've actually made this pie one or two times before, but had a few minor changes that I wanted to try out.  This time around I made it with those adjustments, like decreasing the amount of peanut butter just a tad, and it came out perfect.  This was a huge hit with everyone who tried it.  It's hard to go wrong with an oreo crust filled with vanilla peanut butter ice cream, hot fudge and some more oreos and peanut butter cups for good measure.
I made this pie a few days before my actual birthday and had to watch my husband closely to stop him from cutting a piece before he was allowed to touch it.  I have to say I was tempted a few times to sneak a bite as well.  We have a few slices leftover in the freezer and it is taking all my willpower to stop myself from eating it.  While I usually bring the majority of my baked goods into work or send them with my husband for his co-workers, it's a little hard to share a frozen treat.  Oh well, guess I'll just have to eat it all myself.  It was my birthday cake after all.
Peanut Butter Oreo Ice Cream Pie
Recipe for peanut butter oreo ice cream pie. With an oreo crust, no churn peanut butter ice cream, hot fudge and peanut butter cups!
Ingredients:
1 (15.5 ounce) package oreo cookies – you'll have a few leftover
6 tablespoons unsalted butter, melted
1 (14 ounce) can sweetened condensed milk
¼ cup creamy peanut butter
1 teaspoon vanilla extract
2 cups cold heavy cream
1 cup hot fudge sauce
peanut butter cups, for garnish
Directions:
Place 25 oreo cookies (cream and all) into the bowl of a food processor. Process until finely crushed. If you don't have a food processor, place the oreos in a large ziploc bag and crush using a rolling pin until the oreos have a fine consistency.
In a medium bowl, add the crushed oreos and the melted butter. Mix until well combined. Press the mixture into the bottom of a 9-inch pie dish. Place the dish in the freezer for about 10 to 15 minutes.
Meanwhile, in a large bowl, whisk together the sweetened condensed milk, peanut butter and vanilla extract. Set aside.
In the bowl of a stand mixer fitted with the whisk attachment, add the heavy cream. Whip on high speed until stiff peaks forms, about 3 to 5 minutes. Add the whipped cream to the bowl with the condensed milk. Gently fold together.
Remove the pie dish from the freezer. Add half of the cream mixture to the pie dish. Heat the hot fudge sauce in the microwave for a few seconds so that it will pour easily. Drizzle half of the hot fudge evenly over the pie. Top with the remaining half of the cream mixture. Drizzle again with the remaining hot fudge.
Lightly crush about 6 of the remaining oreos. Chop the peanut butter cups in half (it helps to freeze them for a bit first – they'll cut much easier and neater). Garnish the pie as desired with the oreos and peanut butter cups.
Return the pie to the freezer for at least 6 to 8 hours before serving. Once everything is set, I usually cover loosely with aluminum foil.