Honey Balsamic Vinaigrette
Can I share with you a slightly ridiculous story?  I was at the dentist yesterday to get an old filling replaced and the power went out.  Um what?  No one had any clue what was going on, so I sat there in the chair for about 15 minutes before they told me I'd have to come back another day since it didn't look like the power was coming back anytime soon.  Thankfully they had not started to drill quite yet, so I consider myself pretty lucky.  The doctor told me how it happened once before while they were in the middle of drilling.  Seriously, I would have died.  I kind of died as it was.  Strangest experience.  I never thought the power would go out while at the doctor's office.  I guess I always figured they have generators.  Anyway, I have to go back tomorrow and I'm NOT looking forward to it.
I fully realize that story has nothing to do with this recipe.  It was just an odd day and I wanted to share.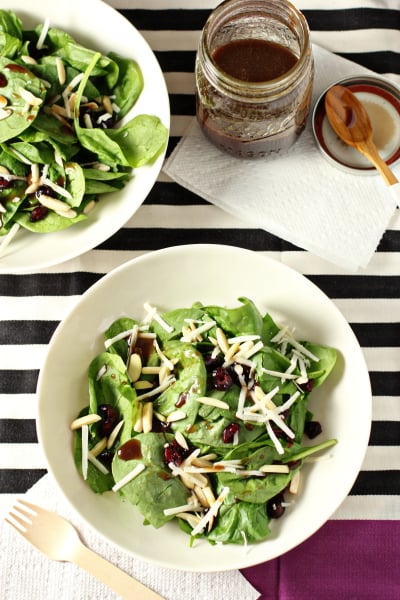 So, up until the past year, salad dressing was one of those things I never thought to make myself.  I would just buy bottles from the store so we always had some on hand.  That's all changed now and making your own salad dressing really couldn't be easier.  This honey balsamic vinaigrette is one of our favorites.  The honey adds just a touch of sweetness and jazzes up your standard balsamic dressing.  We always have the ingredients on hand, so I can make another batch whenever we run out.  And considering we eat a number of salads around here, we make this vinaigrette quite often.
Honey Balsamic Vinaigrette
Recipe for honey balsamic vinaigrette! Ditch the store-bought stuff and make dressing at home! Filled with balsamic vinegar, honey & a touch of soy sauce.
Ingredients:
½ cup olive oil
¼ cup balsamic vinegar
⅛ cup honey
1 teaspoon soy sauce
Directions:
Add all the ingredients to a small bowl or container. Whisk or shake until the honey has dissolved and the vinaigrette is smooth.