Homemade Peanut Butter Blueberry Dog Treats
These crunchy homemade peanut butter blueberry dog treats make the perfect special gift for your favorite furry friends! Your dog will love these delicious biscuits! Gluten and dairy free.
Do you see this face? Is this not the prettiest dog ever?
Oh wait, I'm that awesome beagle's mommy so of course I'm completely obsessed with her.
And let me tell you, she is one spoiled rotten beagle. She sleeps in the bed (under the covers I might add), cuddles with me non-stop and with one look from those big eyes can get my husband to cave in to her demands.
However when it comes to food, we are very strict. Both my husband and I grew up with overweight beagles and it is my mission to not let that happen to our dog.
I have never tried my hand at homemade dog treats but due to a traumatic evening a few weeks ago, I decided it was time to make something special for little Emma.
To make a long story short, our poor baby hurt her paw and we had to make an emergency visit to a 24-hour veterinarian. Thankfully, she was fine and I think my husband and I were way more traumatized by the whole thing than she was.
So, I decided I just absolutely had to make her something a little special. After doing some research on what dogs can eat and common allergies, I landed on this recipe.
I made a few changes and suffice it to say that Emma loved these. She was glued to my side while I made them and now even sits next to the cabinet where we keep them.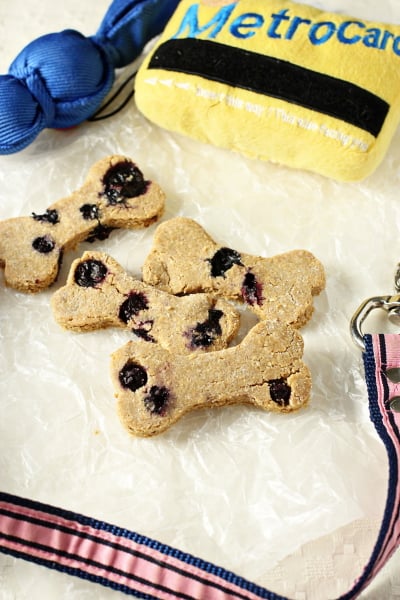 Give me some now! Okay, please I'll be good. Yummmmm.
One note about these peanut butter blueberry dog treats. I completely forgot about the blueberries until I had already started cutting them out. So I went back and added them to half of the dough. It works fine with or without the blueberries and Emma seems to enjoy both equally.
Ingredients
1 large egg
⅓ cup creamy peanut butter
1 tablespoon pure maple syrup
1 tablespoon olive oil
1 cup brown rice flour
½ cup oat flour**
about 2 or more tablespoons water
⅓ cup frozen blueberries
Instructions
Preheat the oven to 350ºF. Line a baking sheet with parchment paper and set aside.
In a large bowl, whisk together the egg, peanut butter, maple syrup and olive oil until smooth. Add in both flours and mix until combined. The dough will be slightly dry, so add water a small amount at a time (mixing after each addition) to get it to a consistency that you can roll out easily. I added just over 2 tablespoons. Gently fold in the blueberries.
On a floured work surface, roll out the dough to about ¼ inch in thickness. Cut the dough with your desired cookie cutter. Place on the prepared baking sheet. The dough will not spread while baking so you can place them fairly close together.
Bake for 25 to 30 minutes, until the treats are crunchy and golden brown.
Once completely cooled, store in an airtight container.
Notes
*Yield will vary depending on the size of your cookie cutter. Mine is 3 ½ inches and I got about 14 dog treats.
**Instead of buying oat flour, just place rolled oats in a food processor and process until finely ground.
While our vet said these are fine for our pup, please speak to yours if you have any concerns before feeding them to your fur baby!
Adapted from Buns In My Oven
Nutrition Information:
Yield:

14
Serving Size:

1
Amount Per Serving:
Calories:

111
Total Fat:

5g
Saturated Fat:

1g
Trans Fat:

0g
Unsaturated Fat:

3g
Cholesterol:

13mg
Sodium:

36mg
Carbohydrates:

14g
Fiber:

1g
Sugar:

2g
Protein:

3g
Nutrition data shown is an estimate provided by an online calculator and is for informational purposes only. It should not be considered a substitute for a medical professional's advice.