Cranberry Walnut Bread
This cranberry walnut bread was originally posted in November 2012. The post has been updated as of November 2, 2017 with new photos, text and improved recipe instructions!
It's cranberry walnut season!! More specifically, cranberry walnut bread season!!
And here's how it usually goes down … you're walking through the bakery aisle of your local grocery store and cranberry walnut goodness is calling out to you from every which way. The delicious smells, the holiday good time feels! It's all very hard to resist.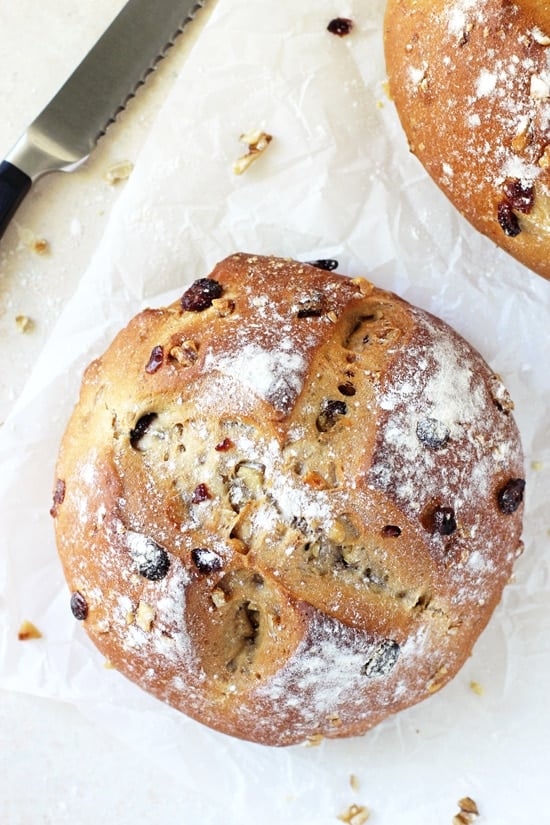 But wait! Stop right there! Before you make any decisions, let me first re-introduce you to this homemade version of the popular holiday bread.
Which, might I add, makes enough dough for two really good size loaves. So essentially, it's two for the price of one! I mean seriously, why are the limited edition breads they sell at the store so dang expensive???
ANYWAY. Expensiveness aside, this homemade version also puts those store-bought ones to shame in the flavor department. And will absolutely have you smitten. The loaves bake up perfectly study, perfectly soft and are filled with jusssst the right amount of mix-ins. They are fantastic all warm from the oven and their lovely aroma will fill your kitchen with the best smells and make you all kinds of happy.
Added bonus? This bread is highly toast-able. As in, it makes for just about the best toast ever. Perfectly crisp on the outside, perfectly chewy and soft on the inside, with a touch of sweetness from some honey and the cranberries, AND that hint of crunch from the walnuts.
It's a carb-lovers dream.
Slather with some almond butter, slather with some regular ol' butter or heck, even enjoy plain. No matter what way you choose to enjoy, it will definitely make your holiday season very merry.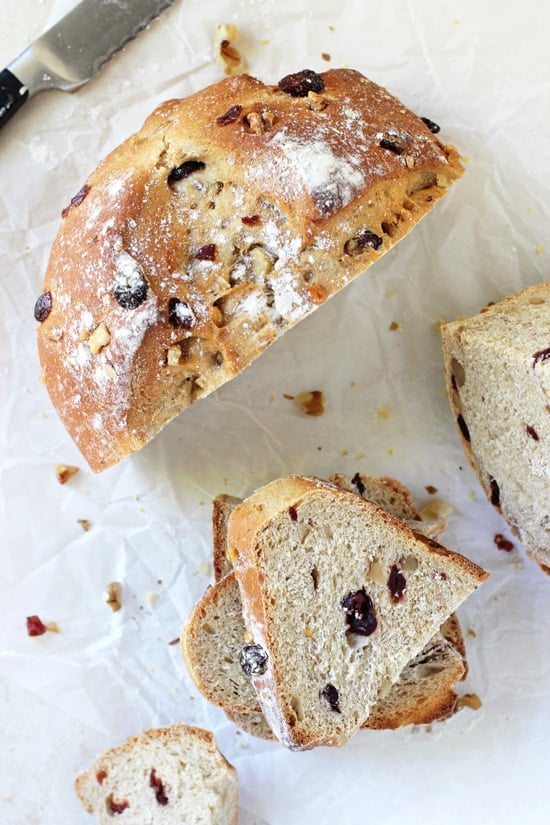 So, let's get to a few tips & tricks for this cranberry walnut bread:
This bread freezes beauuuutifully! We tend to go through a whole lotta bread during the holidays when we have family staying with us, so I love to keep a few loaves in the freezer to thaw out as needed. If freezing, let the bread cool completely, then wrap in plastic wrap and place in a large freezer-safe baggie. You can also slice the bread and then freeze!
I have successfully substituted on numerous occasions 1 ½ to 2 cups of the all-purpose flour with white whole wheat flour (not regular whole wheat flour!) without any change in the overall texture of the final product.
Along those lines, when measuring your flour, be sure to scoop it with a spoon into your measuring cup and then level off with the back of a knife. If you dunk your cup into your flour bag, you'll likely use too much and the dough will be too heavy / dry.
Keep in mind that the exact rise time for the dough can vary slightly based on the temperature and humidity in your house. Ideally, you want to find a nice warm spot for the dough to rise.
And finally! The base of this bread is a complete go-to of mine. So if you're not feeling the cranberry walnut combo, you can absolutely use other mix-ins or even leave plain. One of my favorite combinations? Minced fresh rosemary and black pepper – SO GOOD.
Additional Homemade Bread Recipes You Might Enjoy!
Did you make this recipe? Rate and review it down below! I'd love to hear from you.
Cranberry Walnut Bread
Prep Time: 3 hours
Cook Time: 45 minutes
Total Time: 3 hours 45 minutes
Homemade cranberry walnut bread! Make this store-bought holiday staple at home! Sturdy, soft and chewy, it makes for the best toast! And it's freezer-friendly!
Ingredients:
1 ½ cups warm water (105 to 115ºF)
1 tablespoon active dry yeast
6 cups all-purpose flour, divided
½ cup honey
¼ cup olive oil
1 ½ teaspoons salt
1 teaspoon ground cinnamon
scant 1 cup dried cranberries
scant 1 cup chopped raw walnuts
Directions:
To the bowl of a stand mixer fitted with the paddle attachment,* add the warm water then sprinkle in the yeast. Next, add in ½ cup of the flour and mix briefly on low speed to combine. Let the mixture sit for 10 minutes to proof the yeast.
Add in the honey, olive oil, salt and cinnamon and mix briefly again on low to combine. With the mixer on low speed, slowly add in the remaining 5 ½ cups of the flour, about 1 cup at a time. Once the dough forms a shaggy mass, stop the mixer and switch to the dough hook. Knead on low speed for about 3 to 5 minutes, until the dough is smooth and elastic (if the dough is too sticky, slowly add in additional flour until it reaches the desired consistency).
Shape the dough into a ball and place in a large lightly oiled bowl. Turn once to coat, then cover with plastic wrap or a clean kitchen towel. Allow the dough to rise until it has doubled in bulk, about 1 ½ to 2 hours.
Line a large baking sheet with parchment paper, then sprinkle lightly with cornmeal. Set aside.
Gently deflate the dough and transfer to a lightly floured surface. Knead in the cranberries and walnuts by hand. Split the dough into two equal sized pieces and form each into a ball about 5 to 6 inches in diameter. Place both on the prepared baking sheet, then cover with a damp towel(s) and let rise again for another 30 to 45 minutes, until puffy.
Meanwhile, preheat the oven to 350ºF. Once the loaves have proofed, sprinkle the tops lightly with flour, then use a serrated knife to cut a cross into the top of each loaf (about 1-inch deep).
Bake for about 35 to 45 minutes, until golden brown and the loaves sound hollow when tapped on the bottom (if you have an instant-read thermometer, the internal temperature should be about 190ºF). Transfer the loaves to a wire rack to cool before slicing!
*The amount of dough for this recipe works best in a 6 quart stand mixer (or larger). I have made it in a 5 quart stand mixer – although it really pushes the capacity of the bowl. Alternatively, you can mix everything in a large bowl and then knead the bread completely by hand!
Prep time includes rise time for the dough. The hands on / active time is only 20 minutes!