Gingerbread with Vanilla Mascarpone Swirl
I am officially in major holiday baking mode.  It's slightly scary how many sweet treats are coming out of my kitchen right now.  But I'm totally okay with it since I have been having so much fun.  I'm sure my husband doesn't mind me blaring Christmas music, making a little too much noise singing along and banging pots and pans, oh and crying a little when I trip over our hungry beagle who always seems to be under my feet.  Please tell me I'm not the only one who constantly injures herself because of her dog?
But don't worry, I didn't somehow hurt myself the day I made this gingerbread.  So it's all good.  The day I made this snack cake was the day we watched National Lampoon's Christmas Vacation for the first time this year.  We ate some of it while enjoying the movie.  Perfect?  Absolutely.  And this year we realized that some of our own family members are eerily similar to a few of the characters – which made us laugh even harder.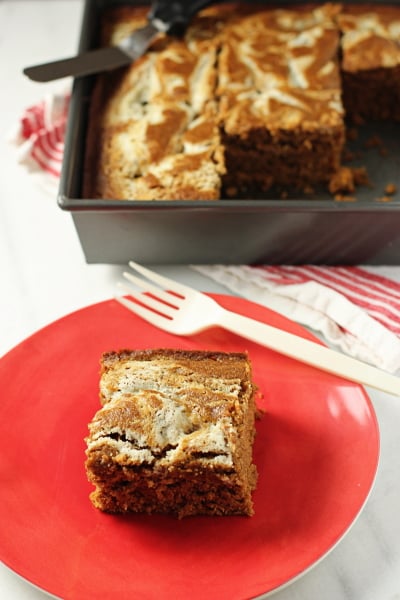 But I digress.  One of my favorite things about this gingerbread is the way it makes the house smell while baking.  It put me even more in the holiday spirit.  It also made me turn on the oven light and stare at it… you know because if you stare at the cake then maybe it will be done even quicker so you can hurry up and eat it.
This snack cake is more on the mild side, which is how I prefer my gingerbread – not too spicy.  It is light and fluffy and full of all that wonderful Christmas flavor.  The vanilla mascarpone swirl adds just a touch more sweetness and visual interest.  And if you're feeling a little naughty, you can go ahead and top a warm piece of this gingerbread with some leftover cinnamon whipped cream.  Oh yeah – that definitely happened.
Yield: 1 9-inch square cake
Gingerbread with Vanilla Mascarpone Swirl
Recipe for gingerbread with vanilla mascarpone swirl. A light and fluffy gingerbread snack cake with a pretty vanilla mascarpone swirl for added sweetness.
Ingredients:
For the gingerbread:
2 ¼ cups white whole wheat flour
⅓ cup packed light brown sugar
1 teaspoon baking soda
½ teaspoon baking powder
½ teaspoon salt
1 ½ teaspoons ground ginger
1 teaspoon cinnamon
¼ teaspoon nutmeg
¼ teaspoon cloves
½ cup (1 stick) unsalted butter
½ cup unsulfured molasses
¼ cup honey
¼ cup water
1 large egg
1 cup buttermilk
For the mascarpone swirl:
4 ounces mascarpone, room temperature
⅛ cup confectioners' sugar
½ teaspoon vanilla extract
Directions:
To make the gingerbread, preheat the oven to 350 degrees. Using non-stick cooking spray or butter, grease a 9-inch square baking pan. Set aside.
In a large bowl, add the flour, brown sugar, baking soda, baking powder, salt, ginger, cinnamon, nutmeg and cloves. Whisk together, making sure to break up any clumps of the brown sugar. In a small heatproof bowl, melt the butter. Add the molasses and honey to the melted butter and mix to combine. Pour the butter mixture into the bowl with the dry ingredients and mix until slightly moistened. Add in the water and mix until combined. In another small bowl, whisk together the egg and buttermilk. Add to the bowl with the rest of the ingredients and mix until combined. Pour the batter into the prepared cake pan and set aside.
To make the mascarpone swirl, add the mascarpone, confectioners' sugar and vanilla to a small bowl. Mix until combined. Drop dollops of the mixture on top of the cake batter. Use a small knife to swirl into the batter.
Bake for 30 to 35 minutes, until the cake begins to pull away from the edges of the pan and a toothpick inserted into the middle comes out clean. Let cool for about 15 minutes before slicing to serve.