Snowball Cookies with Mini Chocolate Chips
Snowball cookies are an essential part of Christmas for me.  I know they have various other names, but to me they will always be snowballs.  You see, my grandma made them every single year for as long as I can remember when I was growing up.  She typically used a little food coloring to tint some of them red and green.  I always insisted that the red ones tasted best.  Obviously.  It makes me laugh to think about some of the silly things I did when I was a kid.  I also vaguely remember refusing to eat the white ones since they were not as festive.  Oh my, I'm sure I was a pain.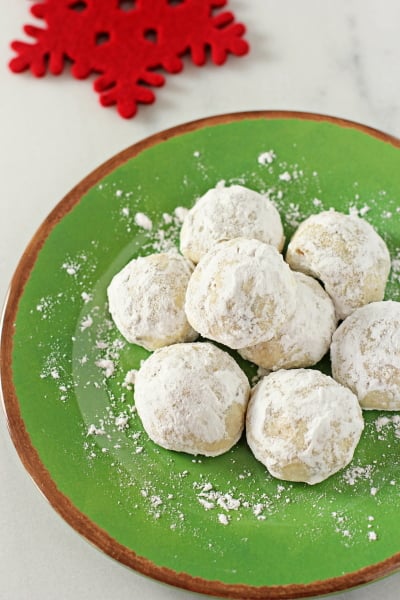 As soon as I signed up for the Great Food Blogger Cookie Swap 2012, I knew immediately that these were what I wanted to make.  I've tested out several recipes over the years to find the one that is closest to what I remember from my grandma's version.  And this, my friends, is it.  I added some mini chocolate chips to the batter, because chocolate clearly makes everything better, but otherwise these are so close to the ones I remember.
They have that perfect melt-in-your mouth quality, a little crunch from the walnuts and just the right amount of sweetness from the roll in confectioners' sugar and mini chocolate chips.
I packaged these up and sent them off to three lovely ladies – Stephanie, Linda and Maria.   You can head over to their sites to check out what they made for the swap!  In return, I received some very yummy cookies from several other lovely bloggers.  It has been a complete cookie overload!  But oh so much fun.
Yield: about four dozen cookies
Snowball Cookies with Mini Chocolate Chips
Recipe for snowball cookies with mini chocolate chips. Melt-in-your mouth buttery cookies with walnuts and mini chocolate chips. Finished in powdered sugar.
Ingredients:
2 cups walnuts, divided
2 cups all-purpose flour
¾ teaspoon salt
16 tablespoons (2 sticks) unsalted butter, softened
⅓ cup superfine sugar*
½ of a vanilla bean
1 ½ teaspoons vanilla extract
½ cup mini chocolate chips
1 ½ cups confectioners' sugar
Directions:
Preheat the oven to 325 degrees. Line a baking sheet with parchment paper and set aside.
Add 1 cup of the walnuts to the bowl of a food processor. Process for about 10 to 15 seconds, until ground to the texture of coarse cornmeal. Transfer to a medium bowl. Add the remaining 1 cup walnuts to the food processor and process for about 5 seconds, until they are coarsely chopped. Add to the bowl with the ground walnuts. Next, add the flour and salt to the same bowl. Mix all the ingredients to combine.
In the bowl of a stand mixer fitted with the paddle attachment, add the butter and superfine sugar. Beat on medium speed until light and fluffy, about 3 to 5 minutes. Split the vanilla bean lengthwise and scrape out the seeds. Add the seeds to the bowl, as well as the vanilla extract. Beat until combined. With the mixer on low speed, slowly add in the walnut-flour mixture. Mix until just combined. Scrape down the sides of the bowl and beat on low speed for another 7 to 10 seconds, until the dough is cohesive. Remove the bowl from the mixer and gently fold in the mini chocolate chips.
Scoop about 1 tablespoon of dough at a time (I used my small dough scoop) and roll into a ball. Place on the prepared baking sheet, spacing the cookies about 1 inch apart. Bake for about 18 to 20 minutes, rotating the pan once during baking. The cookies should be a pale golden color and the bottoms should just be slightly brown.
Let the cookies cool directly on the baking sheet for about 10 minutes. Remove to a wire rack to cool completely. Once cool, add the confectioners' sugar to a bowl. Gently roll the cookies in the sugar to coat all the sides. If desired, you can re-roll the cookies before serving.
*Don't have superfine sugar on hand? No problem, you can make your own. Place regular granulated sugar in a food processor and process for 30 seconds (1 cup plus 2 teaspoons granulated sugar will yield 1 cup superfine sugar).