Peanut Butter Fudge with Chocolate Swirl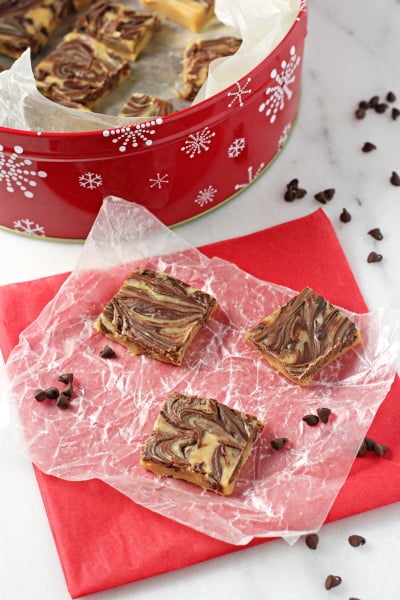 Somebody stop me – I apparently have a little problem with swirls.  First, there was the gingerbread cake.  Now, there's this fudge.  And I may have done another swirl with a recipe I made last night.  I can't help myself – they are just so much fun.
Okay, moving along, let's talk about fudge.  I have had fudge on the brain for the last few months.  I have seen so many recipes around the web and in my cookbooks, but for whatever reason never decided to make my own.  Until I saw this candy cane chocolate swirl fudge from Sally – seriously what is with me and swirls?  I decided that the whole fudge making business needed to happen soon.  And what better time than the holiday season?
While I like peppermint, I really wanted to make a peanut butter fudge.  It has been on my must-make list forever.  And then I realized that I could make a peanut butter fudge and do a chocolate swirl on top – because chocolate and peanut butter are a match made in heaven and because I also have a thing for swirls.  Right.
And holy moly is this stuff good.  It is creamy and packed with that ever-wonderful peanut butter chocolate flavor.  I especially liked that this fudge was not as thick as usual, which made it seem somehow lighter (but still decadent).  This does get soft pretty quickly, so be sure to store it in the refrigerator.  I kept sneaking little bites until I decided enough was enough and sent the rest in with my husband to work.  But we missed it so much that I'll be making another batch soon for Christmas.
Peanut Butter Fudge with Chocolate Swirl
Recipe for peanut butter fudge with chocolate swirl. Easy, creamy peanut butter fudge – no candy thermometer needed! Finished with a pretty chocolate swirl.
Ingredients:
1 (14 ounce) can sweetened condensed milk
½ cup creamy peanut butter
8 ounces white chocolate, chopped
1 teaspoon vanilla extract
½ cup mini chocolate chips
Directions:
Line an 8 or 9 inch square baking pan with wax or parchment paper (cut a big enough piece so that the paper hangs over the edges of the pan) and set aside.
In a medium saucepan set over medium heat, add the sweetened condensed milk and the peanut butter. Stir frequently until the peanut butter is blended with the milk. Add in the chopped white chocolate and continue to stir frequently until the chocolate is melted. Remove the pan from the heat. Add in the vanilla extract and mix until combined. Pour the mixture into the prepared pan and use an offset spatula to spread evenly.
Sprinkle the mini chocolate chips over the fudge. Let sit for a few seconds and then use a small knife to gently swirl the chips into the fudge.
Let the pan cool slightly then place in the refrigerator to chill for 2 to 3 hours (until firm). Use the parchment overhang to gently lift the fudge from the pan. Cut into squares. Store in the refrigerator.