Dark Chocolate Pistachio Toffee
This sweet and salty dark chocolate pistachio toffee is irresistible! With a buttery, crunchy toffee base coated on both sides with dark chocolate and sprinkled with pistachios, it's perfect for the holidays.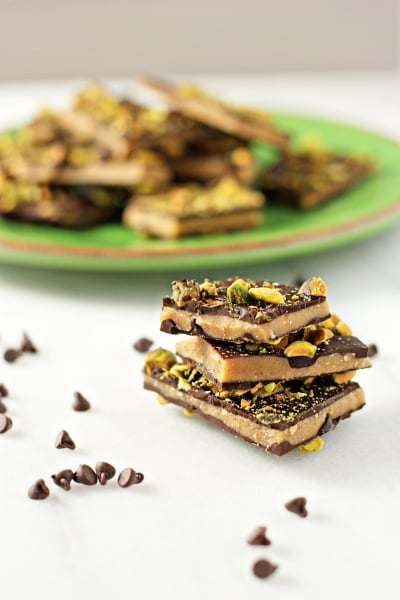 Note: This recipe is NOT dairy free. It was published before Cook Nourish Bliss transitioned to dairy free recipes and remains popular with long time readers. You can try using substitutions to make it dairy free, however I have not tested this myself and can't say how it will turn out.
Looking for a last minute homemade gift idea? Look no further than this dark chocolate pistachio toffee.
I promise that the recipient will love this – it is highly addictive. Don't say I didn't warn you.
This buttery, crunchy toffee is topped with plenty of dark chocolate and chopped pistachios. Sweet with a little saltiness from the nuts. A perfect combination and oh so very good.
So, this recipe was inspired by a recent visit to Trader Joes. I was walking down the aisle in our local store that has all those fun candy and cookie items.
I was lingering a little too long when I spotted their version of this toffee. I almost put it in my cart, but decided instead to try making it at home.
You will need a candy thermometer for this recipe, but you can pick them up for pretty cheap. And it's well worth it – I've put mine to good use over the last few weeks with all these holiday sweets!
I thought making toffee at home would be difficult but it really is pretty simple. The hardest part is waiting for the toffee to harden up in the refrigerator to give it a taste!
Additional Candy Recipes You Might Enjoy!
Did you make this recipe? Rate and review it down below! I'd love to hear from you.
Ingredients
14 tablespoons unsalted butter
1 cup granulated sugar
2 tablespoons cold water
1 teaspoon vanilla extract
¼ teaspoon salt
2 ¼ cups dark chocolate chips, divided
1 cup chopped pistachios, divided
Instructions
Line a rimmed baking sheet with parchment paper. Generously butter the parchment paper and then set aside.
In a medium saucepan set over medium-high heat, add the butter, sugar and water. Stir the mixture continuously until the sugar has dissolved and it just starts to boil. Attach a candy thermometer to the pan and let the mixture cook until it reaches 300 to 310ºF. Remove from the heat and stir in the vanilla extract and salt.
Very carefully pour the mixture onto the prepared baking sheet and use an offset spatula to spread to ¼ inch thickness. Let the toffee cool for about 1 ½ to 2 minutes and then evenly sprinkle 1 cup of the chocolate chips over the toffee. Let sit for a few seconds and then use an offset spatula to evenly spread the chocolate over the toffee. Next, sprinkle ½ cup of the chopped pistachios over the chocolate.
Let the toffee cool for another 5 minutes and then transfer the pan to the refrigerator. Allow the toffee to harden, about 1 hour.
Remove from the refrigerator and use the parchment to gently lift the toffee out of the pan. Set on the counter. Line the baking sheet with a new piece of parchment paper and then gently flip the toffee onto the new piece (with the chocolate side down).
Add the remaining chocolate chips to a microwave safe bowl. Microwave at 50 percent power for 30 second intervals until the chocolate is completely melted.
Pour the melted chocolate over the toffee and use an offset spatula to spread out evenly. Quickly sprinkle the remaining ½ cup pistachios over the chocolate (before it starts to set).
Return the pan to the refrigerator and allow to harden completely. Break into pieces and store in an airtight container.
Nutrition Information:
Yield:

25
Serving Size:

1
Amount Per Serving:
Calories:

201
Total Fat:

14g
Saturated Fat:

7g
Trans Fat:

0g
Unsaturated Fat:

6g
Cholesterol:

18mg
Sodium:

49mg
Carbohydrates:

19g
Fiber:

2g
Sugar:

16g
Protein:

2g
Nutrition data shown is an estimate provided by an online calculator and is for informational purposes only. It should not be considered a substitute for a medical professional's advice.