Homemade Raspberry Marshmallows
These soft and fluffy homemade raspberry marshmallows are absolutely delicious! Filled with fresh raspberry puree, they make for the best s'mores or hot chocolate!
Confession time. I always thought I disliked marshmallows. Sure, I'd eat them if it involved s'mores, but other than that, no thanks. Pass em' right along.
Those little mini marshmallows that come in packages of hot chocolate? Yuck. I preferred my hot chocolate plain, thank you very much.
But when planning out treats to make for Christmas, I decided it would be fun to give homemade marshmallows a try. They intrigued me – maybe I'd even like them.
And apparently I have been missing out – these homemade ones are pretty awesome. I made two batches within a two week period. Don't worry, some were for sharing with others. Some.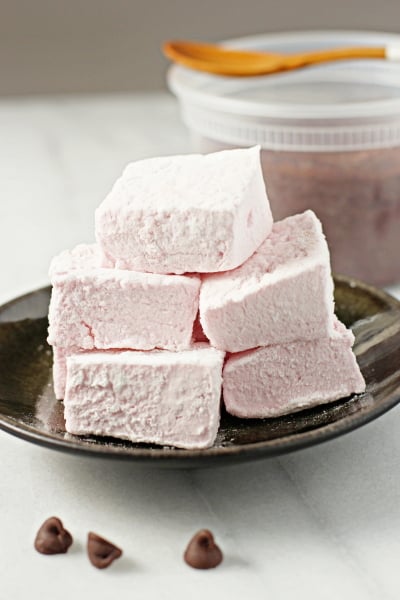 I absolutely love raspberries, so I decided to incorporate that flavor right into the marshmallows – and I couldn't be happier with the result.
Fresh raspberries are pureed, sweetened with a touch of sugar and then blended in with the marshmallow base.
While these marshmallows melt ever-so-perfectly into a steaming mug of hot chocolate, I like them even better on their own, that way you get the full raspberry flavor.
While I haven't tested it out quite yet, I have a feeling that these raspberry marshmallows would be amazing for making s'mores….
Additional Candy Recipes You Might Enjoy!
Did you make this recipe? Rate and review it down below! I'd love to hear from you.
Homemade Raspberry Marshmallows
Yield:
about 90 (1-inch square) marshmallows
These soft and fluffy homemade raspberry marshmallows are absolutely delicious! Filled with fresh raspberry puree, they make for the best s'mores or hot chocolate!
Ingredients
For the raspberry puree:
6 ounces fresh raspberries
1 tablespoon granulated sugar
pinch of salt
For the marshmallow base:
3 (0.25 ounce) envelops unflavored gelatin
1 cup ice cold water, divided
1 ½ cups granulated sugar
1 cup light corn syrup
¼ teaspoon kosher salt
1 teaspoon vanilla extract
¼ cup confectioners' sugar
¼ cup cornstarch
Instructions
To make the raspberry puree:
Add the raspberries, sugar and salt to the bowl of a food processor. Process until smooth. Strain the puree through a fine mesh sieve to remove the seeds and then set aside. You should have about a heaping ⅓ cup of raspberry puree.
To make the marshmallows:
Add the gelatin and ½ cup of the ice cold water to the bowl of a stand mixer fitted with the whisk attachment.
In a small saucepan, add the remaining ½ cup water, granulated sugar, corn syrup and salt. Place the pan over medium high heat and cover with lid. Allow the mixture to cook for 3 to 4 minutes. Remove the lid and attach a candy thermometer to the pan. Cook until the mixture reaches 240ºF. Immediately remove from the heat.
Turn your stand mixer on low speed and while running, slowly (and carefully) pour in the hot mixture in a stream down the side of the bowl. Once all the liquid is added, increase the mixer speed to high. Continue to whip for about 12 to 15 minutes, until the mixture is very thick and lukewarm. During the last minute of whipping, add in the vanilla extract and raspberry puree (start with the mixer on low and then increase again to high once incorporated).
Meanwhile, while the mixture is whipping, whisk together the confectioners' sugar and cornstarch in a small bowl. Lightly spray a 9 by 13 inch baking dish with nonstick cooking spray. Generously coat the bottom and sides of the pan with a dusting of the confectioners' sugar mixture, reserving the rest for later.
When the marshmallow mixture is ready, pour into the prepared dish and use a lightly greased spatula to spread evenly in the pan. Sprinkle the top generously with the confectioners' sugar mixture, using enough for it to be lightly covered.
Let the marshmallows sit uncovered at room temperature for at least four hours (and up to overnight).
Gently remove the marshmallow from the pan and place on a cutting board. Using a pizza wheel or sharp knife dusted with the confectioners' sugar mixture, cut into 1-inch squares. Once cut, lightly dust all the sides of each marshmallow with the confectioners' sugar mixture (making more if needed) to prevent them from sticking.
Store the marshmallows in an airtight container for up to 3 weeks.
Nutrition Information:
Yield:

45
Serving Size:

1
Amount Per Serving:
Calories:

56
Total Fat:

0g
Saturated Fat:

0g
Trans Fat:

0g
Unsaturated Fat:

0g
Cholesterol:

0mg
Sodium:

17mg
Carbohydrates:

14g
Fiber:

0g
Sugar:

14g
Protein:

0g
Nutrition data shown is an estimate provided by an online calculator and is for informational purposes only. It should not be considered a substitute for a medical professional's advice.