Homemade Soft Pretzels
Homemade soft pretzels have been on my cooking and baking bucket list for what seems like ages.  I made plans again and again to set aside some time out of my weekend to make them, but something always came up or got in the way.  I kept pushing them back further and further, which was disappointing but what can you do?  I was lucky enough to have a long three-day weekend from work recently and finally got to make my homemade pretzels.  I was so happy that they came out just as good as I had hoped.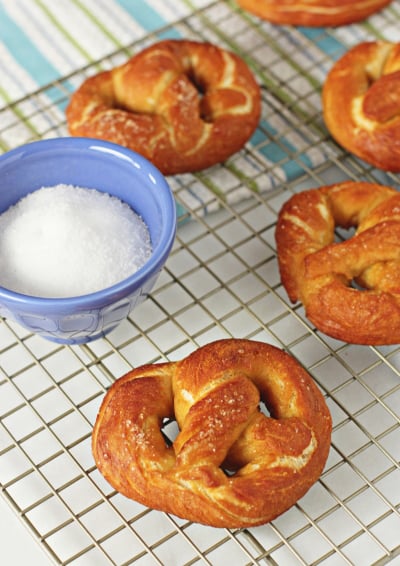 Yes, these pretzels do take a little bit of extra time, but the result is absolutely worth it.  They are perfectly chewy but still soft on the inside.  They have that faint yet wonderful hint of butter with just an extra touch of sea salt sprinkled on top.  I had originally planned to make a cheese sauce to go along with these, but to be honest they are perfect completely plain.  I felt like a sauce would ruin them – which is crazy!  But true : )  Maybe next time I'll give a dipping sauce a chance.  I have a feeling I'll be making these again sooner rather than later, especially considering they disappeared a little too quickly for my liking… I blame my husband for that.
Homemade Soft Pretzels
Recipe for homemade soft pretzels. Perfectly chewy, but still soft on the inside and finished with a touch of salt. Totally worth the time to make at home!
Ingredients:
1 cup warm water (approx. 110 degrees)
1 teaspoon instant yeast
¼ cup honey
1 teaspoon salt
3 cups bread flour
6 cups water
3 tablespoons baking soda
2 tablespoons unsalted butter, melted
1 tablespoon sea salt
Directions:
In the bowl of a stand mixer fitted with the paddle attachment, add the warm water. Sprinkle in the yeast and then add the honey and salt. Mix for a few seconds on low speed to combine. Next add in the bread flour. Mix on low speed until the dough forms a cohesive mass. Switch to the dough hook and knead on low speed for about 5 to 7 minutes, until the dough is smooth and elastic.
Shape the dough into a ball and place in a large lightly oiled bowl. Turn the dough once to coat and then cover with plastic wrap. Let the dough rise until it has doubled in size, about 1 to 1 ½ hours. Gently press down on the dough to deflate then cover again with plastic wrap. Let the dough rise again until nearly doubled in size, about 30 to 40 minutes.
Preheat the oven to 450 degrees. Line a baking sheet with parchment paper and spray with nonstick cooking spray. Set aside. Add the 6 cups water to a large 12-inch skillet. Stir in the baking soda and then cover with lid. Bring the water to a boil over high heat.
Meanwhile, turn the dough out onto a lightly floured surface. Divide the dough into 12 equal sized pieces (a kitchen scale is helpful here – each should be about 2 ounces). Working one at a time, roll each piece into a 20-inch rope that is about ½ inch wide. Holding the two ends of the rope, make a U shape. Then cross the two ends over each other, twist one turn, then press them onto the bottom of the U shape to form a pretzel. Place each on the prepared baking sheet.
When the water is boiling, gently place 3 pretzels at a time into the water, top-side down. Boil for 30 seconds and then use tongs or a wire skimmer to gently flip the pretzels over. Boil for another 30 seconds then remove with a skimmer, drain well and place back on the prepared baking sheet. Repeat with remaining pretzels.
Generously brush the tops of the pretzels with the melted butter. Sprinkle with the sea salt. Bake for 12 to 16 minutes, until the pretzels are well browned, rotating the baking sheet halfway through baking. Remove the pretzels to a wire rack to cool.