Cauliflower Gratin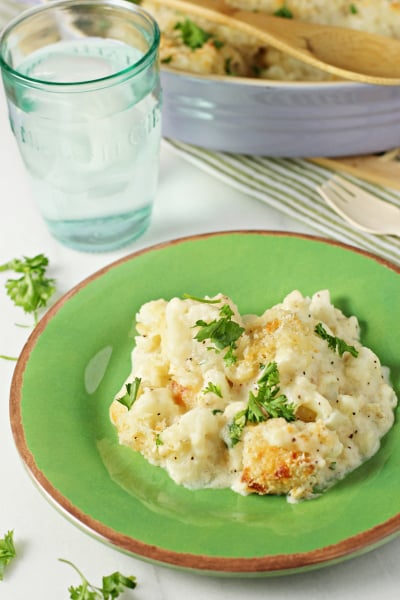 I've mentioned before that I am a huge fan of weekly meal planning.  It keeps me on track, makes my evenings much less stressful after work and I don't end up wasting ingredients.  Win win and win.  After looking at some of my menus from the last few weeks, I realized that I don't pay much attention to side dishes (except for holidays or special occasions).  Most of the time, I automatically go for something simple – rice or potatoes and almost always roasted veggies.  Nothing fancy and something that will be quick and easy.
I also realized that I have a huge amount of ideas and recipes bookmarked for side dishes that I've never gotten around to trying out at home.  Most are ones that I've set aside for holidays, like Thanksgiving.  But a girl can only make so many side dishes for those holidays.  So instead of saving all of them for next year, I decided I should start making some now.

Like for instance, this cauliflower.  We actually eat cauliflower on a pretty regular basis, either roasted or mashed.  But prepared this way?  This was completely new to me.  It is creamy and delicious, combined with cheese and topped with breadcrumbs.  I have a feeling even cauliflower haters may change their tune with this.  I am only slightly embarrassed to admit that my husband and I polished this off in one sitting.  I served this with a simple pork tenderloin and broccoli – making for a great meal.  I think I can safely say that this side dish will make another appearance at our table way before Thanksgiving rolls around again.
Cauliflower Gratin
Recipe for cauliflower gratin. Cauliflower with a creamy sauce, plenty of cheese and topped with breadcrumbs. Baked to perfection.
Ingredients:
1 head cauliflower (about 3 pounds), cut into large florets
2 tablespoons unsalted butter
3 tablespoons all-purpose flour
2 cups hot milk (I used 2%)
½ teaspoon salt
½ teaspoon freshly ground pepper
¼ teaspoon nutmeg
¾ cup freshly grated gruyere, divided
½ cup freshly grated parmesan
¼ cup panko breadcrumbs
¼ cup fresh parsley, chopped
Directions:
Preheat the oven to 375 degrees.
Bring a large pot of lightly salted water to a boil. Add in the cauliflower and cook for 5 to 6 minutes, until tender but still firm. Drain and set aside.
Place a medium saucepan over medium low heat. Add in the butter. When melted, add in the flour and cook for 2 minutes, whisking almost constantly. Slowly pour in the hot milk. Increase the heat to medium to bring to a boil, whisking frequently. Once the milk starts to boil, whisk constantly for 1 minute, or until the mixture has thickened. Turn off the heat and add in the salt, pepper, nutmeg, ½ cup of the gruyere and the parmesan. Whisk until the mixture is smooth.
Pour ⅓ of the sauce into the bottom of an 8 by 11 inch oval baking dish. Gently tip the baking dish back and forth to get the sauce to coat the bottom. Evenly distribute the drained cauliflower over the top. Evenly pour the remaining sauce over the cauliflower. In a small bowl, combine the remaining ¼ cup gruyere with the breadcrumbs. Sprinkle the mixture over the top of the gratin.
Bake for 25 to 30 minutes, until the top is lightly browned. Remove from the oven and sprinkle with the chopped parsley.