Peanut Butter Chocolate Chunk Granola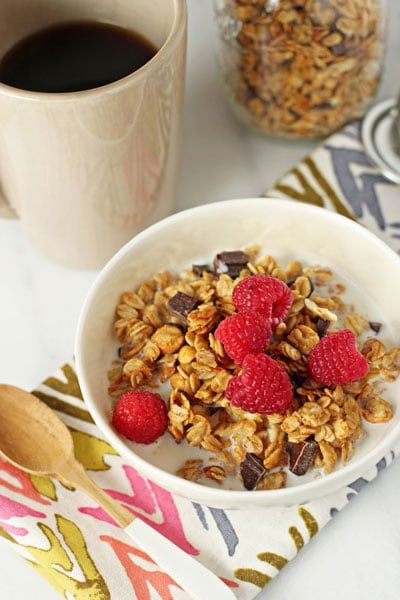 Homemade granola is a staple in our house.  We typically rotate between oatmeal, toast and granola for weekday breakfasts.  This berry chocolate coconut granola has long been my go-to recipe and it's one that I still make all the time.  I decided recently though that I wanted to switch it up a bit, so I started experimenting with other flavors, using my favorite recipe as the base.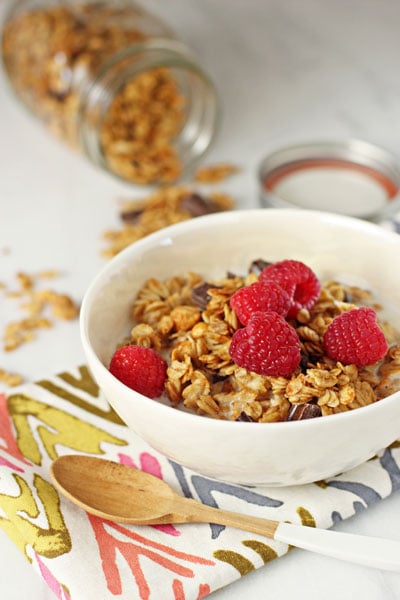 It's no secret that I absolutely love the combination of peanut butter and chocolate, with bonus points if I can also somehow incorporate oats (exhibit A, exhibit B).  So I set out to bring those peanut butter and chocolate flavors into granola.  Major success.  This is my new favorite version.  And judging by how fast we go through this, I'd say it's my husband's new favorite as well.
The granola base is full of peanut butter flavor and is sweet without being overly sweet.   Then you add in plenty of peanuts for some added crunch and just the right amount of chocolate to make it a little more fun.  My favorite way to enjoy this granola is with milk and a handful of fresh berries.  It's peanut butter goodness to start your day off right.
Peanut Butter Chocolate Chunk Granola
Recipe for peanut butter chocolate chunk granola. Homemade granola packed with peanut butter, chunks of chocolate and peanuts for a little crunch.
Ingredients:
¾ cup unsalted peanuts, coarsely chopped
6 cups rolled oats
5 tablespoons canola oil
½ cup honey
½ cup creamy peanut butter
2 tablespoons pure maple syrup
2 teaspoons vanilla extract
¼ cup ground flaxseed (optional)
½ teaspoon cinnamon
½ teaspoon salt
4 ounces semisweet or dark chocolate, chopped
Directions:
Preheat the oven to 325 degrees. Line a large rimmed baking sheet with parchment paper and set aside.
Place a large skillet over medium heat. When hot, add in the peanuts. Cook, stirring occasionally, until light brown and fragrant, about 3 minutes. Add in the rolled oats and canola oil. Cook for about 3 to 4 minutes longer, stirring occasionally, until the oats are lightly toasted. Remove from the heat and add the mixture to a large bowl. Set aside.
In a small saucepan, add the honey and peanut butter. Over medium heat, stir frequently until the peanut butter is completely melted and the ingredients are combined.
Pour the peanut butter mixture into the bowl with the oats. Add in the maple syrup, vanilla extract, flaxseed, cinnamon and salt. Mix until well combined.
Evenly spread the mixture in the prepared baking sheet. Bake for about 15 minutes, stirring every 5 minutes, until it is light golden brown.
Remove the pan from the oven and press the granola down into an even layer on about ¾ of the pan (shift it over to one side). Let the granola cool completely. Break into small pieces and mix in the chocolate. Store in an airtight container.