Chocolate Stout Cake with Cream Cheese Glaze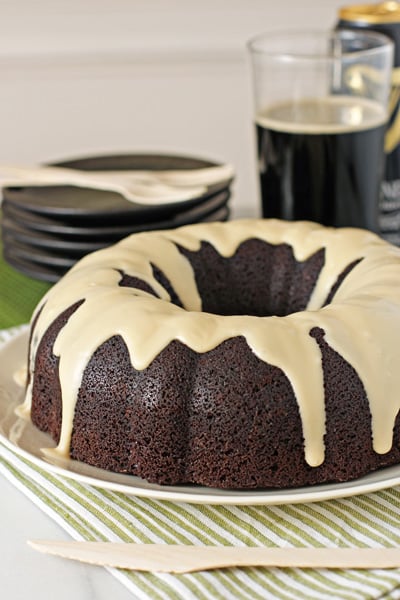 You guys… this cake.  It's my new favorite chocolate cake recipe.  I honestly can't believe I'm even saying this, but I am.  I first decided to make this stout cake since I thought it would be festive for St. Patrick's Day.  But I never thought I'd end up loving it so much.
This cake is incredibly moist – and don't worry if you don't love stout, you can't really taste it.  It just gives the cake this intense chocolate flavor, without being overly sweet.  I am usually a vanilla cake kind of girl, but oh my.  I would take a piece of this cake any day.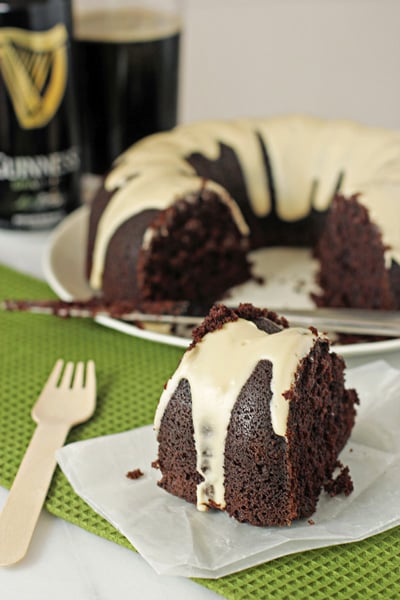 And to make it even better?  A cream cheese glaze.  Yes, you read that right.  I wasn't looking to add too much frosting since I didn't want anything to overpower the actual cake.  The cream cheese glaze gives this just the right amount of sweetness and compliments the chocolate perfectly.
Bake this cake for St. Patrick's Day, or really any occasion, and I have a feeling you'll be a happy camper.
One slice = chocolate heaven.  Just sayin.
Chocolate Stout Cake with Cream Cheese Glaze
Recipe for chocolate stout cake with cream cheese glaze. A super moist cake with an intense chocolate flavor from the stout. Finished with a delicious glaze.
Ingredients:
For the cake:
1 cup stout (such as Guinness)
1 cup (16 tablespoons) unsalted butter
¾ cup Dutch-process cocoa powder
2 cups all-purpose flour
2 cups granulated sugar
1 ½ teaspoons baking soda
¾ teaspoon salt
2 large eggs
⅔ cup sour cream
For the glaze:
4 ounces cream cheese, softened
½ cup confectioners' sugar
1 teaspoon vanilla
3 tablespoons milk
2 tablespoons stout (such as Guinness)
Directions:
To make the cake – Preheat the oven to 350 degrees. Generously spray a bundt pan with nonstick cooking spray or grease with butter, making sure to get in all the ridges of the pan. Set aside.
In a large saucepan, add the stout and butter. Over medium heat, bring the mixture to a simmer, whisking occasionally. Once simmering, add in the cocoa powder and whisk until smooth. Remove from the heat and set aside to cool slightly, about 5 to 10 minutes.
In a medium bowl, whisk together the flour, sugar, baking soda and salt. Set aside. In the bowl of a stand mixer fitted with the paddle attachment, add the eggs and sour cream. Beat on medium speed until combined. Add in the stout/butter mixture and beat until just combined. Slowly add in the flour mixture and beat on low speed until just combined. Pour the batter into the prepared bundt pan. Bake for 35 to 40 minutes, until a cake tester inserted into the middle of the cake comes out clean. Transfer the pan to a wire rack to cool completely. Once cool, carefully run a butter knife around the edges of the pan, then turn the cake out onto the wire rack or a serving platter.
To make the glaze – In the bowl of a stand mixer fitted with the paddle attachment, add the cream cheese, confectioners' sugar and vanilla. Beat on medium speed until light and fluffy, about 2 minutes. Scrap down the sides of the bowl as needed. Alternating back and forth between the milk and stout, add each 1 tablespoon at a time, beating for 30 seconds to 1 minute after each addition on medium speed until the glaze is smooth. If needed, add additional milk or stout, 1 tablespoon at a time, until the glaze has reached your desired consistency. Drizzle the glaze over the cake and allow the glaze to set before serving.