Black Bean Burgers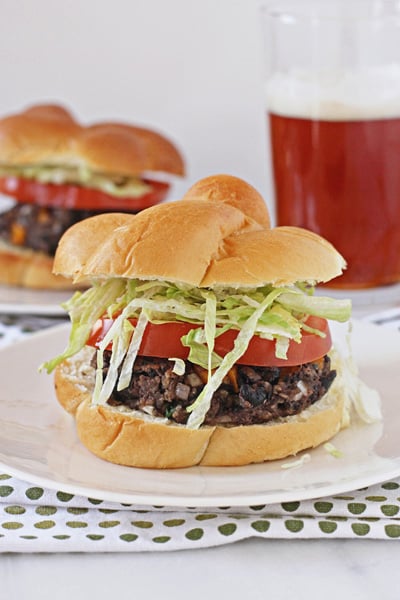 Is anyone else having trouble adjusting to daylight savings time?  I have been a complete mess since the time change … so tired and scatterbrained.  I screwed up countless meals and don't even get me started on ingredients that I accidentally used for the wrong recipe (and therefore wasn't able to make what I was planning on).  I was sick for about week right before the change and work has been a little stressful lately, so I'm thinking maybe that has something to do with it too.  Anywho… thankfully that was not the case with these black bean burgers.  I've made them enough times that I was on autopilot and couldn't screw them up!
This black bean burger recipe has been my go-to for what seems like ages, so I figured it was about time to share it here with you.  These burgers come together in a pinch, making an easy vegetarian meal for during the week.  We love that these are both healthy and filling – and reheat well for lunch.  They are not at all dry (my biggest gripe with so many other versions I've tried) and are a good base to start with and make your own.
You can go bun or no bun.  Cheese or no cheese.  And then top it with some sautéed mushrooms and onions.  Or homemade guacamole.  The list goes on… get creative.  I dare you.
Black Bean Burgers
Recipe for healthy black bean burgers. Filling, flavorful and not at all dry. A great base for whatever toppings you desire.
Ingredients:
For the burgers:
2 (15 ounce) cans black beans, drained and rinsed
2 large eggs
3 tablespoons olive oil, divided
1 teaspoon cumin
½ teaspoon salt
pinch of cayenne pepper (or more to taste)
⅔ cup panko breadcrumbs
1 orange bell pepper, finely chopped
¼ cup finely chopped fresh cilantro
1 medium shallot, minced
For serving (optional):
buns
cheese
lettuce
sliced tomatoes
Directions:
In a large bowl, add 2 ½ cups of the black beans. Use a potato masher to mash them until almost smooth. In a small bowl, whisk together the eggs, 1 tablespoon of the olive oil, the cumin, salt and cayenne. Add the egg mixture to the bowl with the mashed black beans, along with the remaining ½ cup whole black beans, the panko, pepper, cilantro and shallot. Mix until just combined. Form the mixture into 6 equal sized patties (about 1 inch thick, using about ½ cup of the mixture for each). *If desired, at this point you can cover the patties tightly with plastic wrap and refrigerate for up to 24 hours.
Place a large skillet over medium heat. Add 1 tablespoon of the olive oil. When hot, carefully transfer 3 of the patties to the skillet. Cook for about 8 to 10 minutes, flipping halfway through, until both sides are well browned. Repeat this process with the remaining tablespoon of oil and patties.