Orange Ricotta Poppy Seed Muffins
These muffins just scream spring to me.  Bright citrusy flavor that is so welcome this time of year.  It has been so darn cold here in the DC area that these were a welcome treat to distract from all the winter-like temperatures that stuck around a little too long for my liking.
Lemon poppy seed muffins always seem like a perfect addition to an Easter brunch menu, but given the choice I'd pick orange over lemon any day.  I decided to run with that idea and make an orange poppy seed muffin instead.  I had part of a tub of ricotta cheese leftover from another recipe and had a feeling that it might work well in these.  It may sound a little strange but just go with me here.  It helps keep these nice and moist.
I topped the muffins with an orange glaze to reinforce the flavor (and because who can resist a glazed muffin), but to be honest these really don't even need it.  With or without, they are good either way.
Orange Ricotta Poppy Seed Muffins
Recipe for orange ricotta poppy seed muffins. Filled with bright citrus flavor, poppy seeds and ricotta to keep them moist. With an optional orange glaze.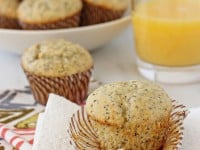 Ingredients:
For the muffins:
2 cups all-purpose flour
2 tablespoons poppy seeds
1 ¼ teaspoons baking powder
¼ teaspoon baking soda
½ teaspoon salt
8 tablespoons (1 stick) unsalted butter, room temperature
1 cup granulated sugar
2 large eggs
1 ½ tablespoons orange zest (from 1 orange)
1 teaspoon vanilla extract
1 cup ricotta
For the glaze:
½ cup confectioners' sugar
1 to 2 tablespoons freshly squeezed orange juice
Directions:
Preheat the oven to 350 degrees. Line a muffin tin with paper cups or grease with nonstick cooking spray. Set aside.
In a medium bowl, whisk together the flour, poppy seeds, baking powder, baking soda and salt. Set aside. In the bowl of a stand mixer fitted with the paddle attachment, add the butter and sugar. Beat on medium speed for about 2 minutes, until light and fluffy. Add in the eggs one at a time, beating after each addition until combined. Add in the orange zest and vanilla and beat until combined. With the mixer on low, add in half of the flour mixture and beat until incorporated. Add in half of the ricotta and beat again until incorporated. Repeat this process one more time (flour mixture then ricotta).
Scoop the batter into the prepared muffin tins, filling each about ⅔ of the way full. Bake for 19 to 21 minutes, or until a toothpick inserted into the middle comes out clean. Let the muffins cool in the pan for about 5 to 10 minutes, then remove to a wire rack. Let the muffins cool for a few additional minutes before adding the glaze.
To make the glaze, whisk together the confectioners' sugar and orange juice in a small bowl. Drizzle the glaze over the warm muffins and allow to set before serving.