Coffee Frozen Yogurt with Mocha Ripple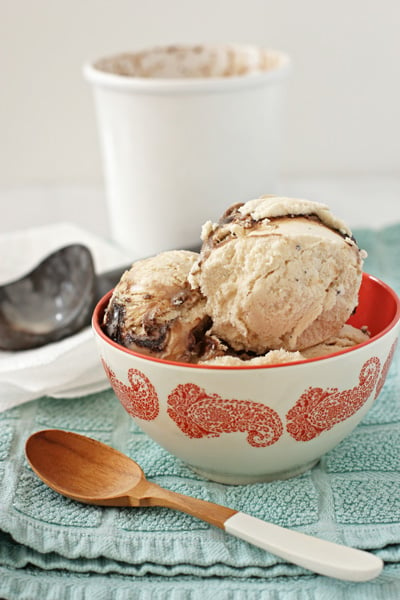 Despite the fact that it's not exactly warm outside quite yet, I decided it was time to bring the ice cream maker back out from winter hibernation.  The cold doesn't usually bother me when it comes to ice cream, but this winter seemed to be an exception.  Of course the first thing I made was our very favorite flavor, vanilla bean, but after that I decided to branch out a little with this coffee frozen yogurt.  My husband and I both love coffee ice cream so I figured this was worth a try.
Let me just put this out there – this is frozen yogurt.  Not ice cream.  Therefore it tastes like frozen yogurt, with that yogurty tang.  The first words out of my husband's mouth when he tried this were, wait, this doesn't taste like ice cream.  Umm yes dear, hence the frozen yogurt title : )
But if you like frozen yogurt then I have a feeling you'll enjoy this.  It has great coffee flavor and the mocha ripple makes it feel a little bit more decadent.  Which is a plus in my book, but you could definitely leave it out if you'd like.  Unlike some of the other homemade frozen yogurts I've tried in the past, this one is still creamy (and scoops well).  I actually liked this best when it was more of a soft serve consistency right out of the ice cream maker, but that's probably because soft serve frozen yogurt reminds me of summer.
Coffee Frozen Yogurt with Mocha Ripple
Recipe for creamy, tangy coffee frozen yogurt with a decadent mocha ripple.
Ingredients:
For the mocha ripple:
½ cup granulated sugar
⅓ cup light corn syrup
½ cup water
6 tablespoons unsweetened dutch-process cocoa powder
2 teaspoons espresso powder
½ teaspoon vanilla extract
For the frozen yogurt:
1 cup plain whole-milk greek yogurt
¾ cup granulated sugar
pinch of salt
¾ cup heavy cream
1 cup brewed espresso, room temperature
¼ teaspoon finely ground dark roast coffee
Directions:
To make the mocha ripple – in a medium saucepan, add the sugar, corn syrup, water, cocoa powder and espresso powder. Whisk to combine. Place the pan over medium heat and whisk frequently until the mixture just comes to a low boil. Cook for 1 minute, whisking frequently. Remove from the heat and stir in the vanilla. Let the mixture cool and then chill thoroughly in the refrigerator before using.
To make the frozen yogurt – in a medium bowl, whisk together the yogurt, sugar, salt, cream, espresso and coffee grinds. Cover with plastic wrap. Refrigerate the mixture until it is well chilled, at least for 2 hours. Freeze the mixture in an ice cream maker according to the manufacturer's directions.
To assemble – spoon some of the mocha ripple into the bottom of your storage container. Add a layer of the frozen yogurt on top. Repeat this process until full (ripple then yogurt). Do not stir the layers (otherwise they'll blend together and you won't have the ripple in your yogurt). Place in your freezer to harden. Before serving, allow the yogurt to sit at room temperature for about 5 minutes before scooping.
This amount of mocha ripple is enough for about two batches of ice cream. You can cut the quantities in half if you are just making it for this recipe. If you make the full amount, you can store it in the refrigerator for up to 2 weeks.
Espresso powder is an ingredient that you can't usually find at your regular grocery store. You can buy it online or at specialty stores like Sur La Table, Williams and Sonoma, etc.
I've made this with both whole milk and 2% greek yogurt. While I preferred the whole milk version, it still came out great with the 2%.