Blueberry, Almond and White Chocolate Cookies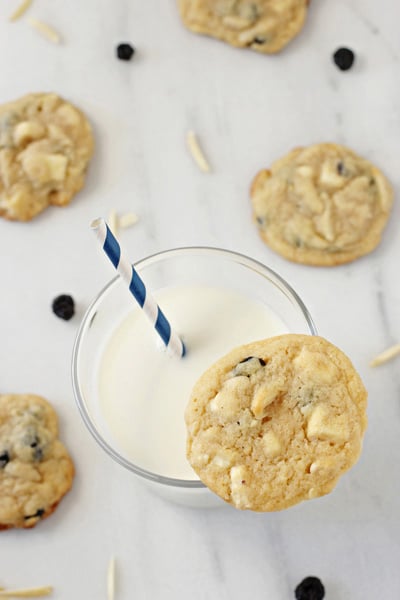 The first time I made these cookies was while I was visiting my parents over Easter weekend.  I wanted to make some type of dessert that had a spring-ish feel.  We were running a little short on time so I starting throwing ingredients together and ended up creating these on the fly – trying to quickly write down what I was doing just in case we loved them.
And love them we did.  My dad told me they were his favorite cookie ever (um? holy compliment!) and I was just as smitten with them myself.  Although I'm not sure I could declare them my favorite cookie ever – that would take a lot of thought and consideration.  Cookies are very serious business around here : )
When we got home, I knew I wanted to make these again asap so that I could share them here with you.  Except you see, I ran into a little problem.  A little snafu if you will.  They didn't come out the same (and not in a good way).  So what does a girl do?  I made these cookies over and over and still could not for the life of me figure out what the problem was.
It took a few weeks before the light bulb finally went off – I wrote the ingredients down wrong when we were at my parents.  That's what I get for being in such a rush all the time.  But lucky for you, and me, I finally figured it out.  And so I give you one of my new favorite cookies.  Blueberry, almond and white chocolate cookies to be exact.  Filled to the brim with all these wonderful add-ins yet with a base that is still chewy and soft.
Pure cookie goodness I tell you.
Yield: about 36 to 40 cookies
Blueberry, Almond and White Chocolate Cookies
Recipe for soft and chewy blueberry, almond and white chocolate cookies. Filled with dried blueberries, almonds and a little bit of lemon zest.
Ingredients:
2 ¼ cups all-purpose flour
1 teaspoon baking powder
½ teaspoon salt
1 cup (2 sticks) unsalted butter, room temperature
1 cup packed light brown sugar
½ cup granulated sugar
2 large eggs
1 ½ teaspoons vanilla extract
½ teaspoon almond extract
zest from one lemon (about 1 tablespoon)
1 cup chopped white chocolate (or chips)
1 cup chopped almonds (or slivered almonds)
1 cup dried blueberries
Directions:
Preheat the oven to 350 degrees. Line a baking sheet with parchment paper and set aside.
In a medium bowl, whisk together the flour, baking powder, and salt. Set aside.
In the bowl of a stand mixer fitted with the paddle attachment, add the butter, brown sugar and granulated sugar. Beat on medium speed until creamy, about 1 minute. Add in the eggs, one at a time, beating after each addition until combined. Add in the vanilla extract, almond extract and lemon zest. Beat until combined. With the mixer on low speed, slowly add in the flour mixture and beat until just combined. Remove the bowl from the mixer and gently fold in the white chocolate, almonds and blueberries.*
Scoop about a heaping tablespoon of dough (I used my large cookie scoop) and drop onto the prepared baking sheet, spacing the balls about two inches apart. Bake for 9 to 11 minutes, until the cookies are a light golden brown around the edges and the centers are just set. Let the cookies cool on the baking sheet for 3 to 5 minutes, then remove to a wire rack to cool completely.
*While not necessary, you can chill the dough in the refrigerator for about 20 to 30 minutes after you fold in all the add-ins. I've found that chilling the dough helps them bake up a little thicker (which is my preference).