Taco Bar Party – Easy Entertaining
For a simple and fuss free entertaining idea, try a taco bar party! It's easy, fun and can accommodate a variety of different dietary needs and restrictions. Plus who doesn't love a good taco?
Last weekend we had a little get together at our house for my husband and his cohort before everyone starts to head off in different directions as their PhD program comes to the beginning of the end.
It was a potluck of sorts, but since we covered the main food as we were hosting, I thought it would be fun to talk about it here.
Life has been crazy lately and while I do love entertaining there was absolutely no time for anything complicated.
I've previously discussed my love for taco night, so when I started brainstorming ideas for food I realized that was the perfect solution.
Fun, simple and able to accommodate various dietary allergies and restrictions. Win win and win.
Taco Bar Party Prep
A few days before the party, I finalized my menu for the day and made up a grocery list of everything I would need.
I refuse to go back to the food store more than once a week – so either I get it then or not at all (I'm also obnoxiously organized which may have something to do with it).
The morning of the party, I set up the table I planned to use for our food, threw on a tablecloth and then set out all the serving dishes and utensils.
No running around later to try to find what would be best for each component of the meal.
I bought a small bouquet of flowers and then arranged them in mason jars (my favorite) on the table.
I have an obsessive need to make things pretty, if you can't already tell : ) Hence the color coordinating bowls. I think I have a problem.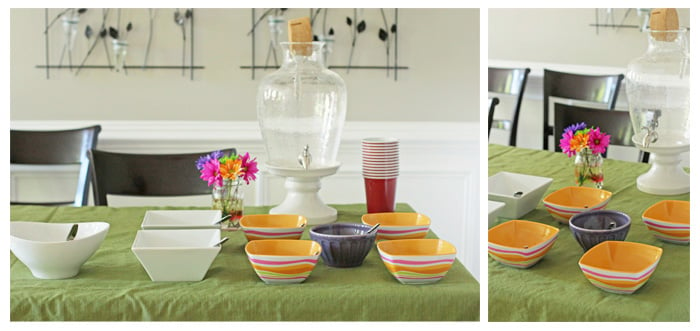 Taco Bar Menu
Below is the food I served, however you could easily change this up to what works for you.
To build the tacos:
corn and flour soft tortillas
hard corn taco shells
For the fillings:
crockpot salsa chicken*
ground beef
For the toppings:
shredded lettuce
grated cheddar and pepper jack cheese
diced tomatoes
diced avocados
sour cream / greek yogurt
For the sides:
spicy citrus black beans (which also doubled as a vegetarian filling)**
cilantro lime rice***
*For the salsa crockpot chicken, I seasoned 4 large chicken breasts with various spices and then threw them in the crockpot with ½ cup low sodium chicken broth and 2 ½ cups of salsa. Covered and let cook on low for 6 hours before shredding to serve. Easy and a solid base for toppings.
**For the spicy citrus black beans, I used Annie's recipe. One of my favorite mexican type side dishes.
***For the cilantro lime rice, I used Jess's recipe. Also delicious and went over really well!
Since this was a potluck, our friends brought all drinks (other than water), the appetizers, such as chips, salsa and guacamole, and dessert.
So, looking for a simple entertaining idea? The taco bar has got you covered.