Lemon Poppy Seed Waffles with Blueberry Maple Syrup
I am a waffle girl all the way.  Pancakes, with a few exceptions, are usually just eh for me.  Yet I never seem to manage to get out the waffle maker for special breakfasts.  You see, it's on the top shelf in one of our cabinets that I can't reach.  Getting a stool or chair (or yelling for my husband to come get it) would clearly be too much work.  So there it sits.
But after a recent visit to one of our very favorite restaurants, I knew I needed to stop being lazy and bring down the waffle maker.  We almost passed on dessert that night but thankfully realized that was crazy and ordered anyway.  Lemon poppy seed dessert waffles with a blueberry sorbet.  It was out. of. this. world.
I decided to recreate it at home almost immediately.  Except I knew I wanted it to be a breakfast treat, so instead of sorbet I made a blueberry maple syrup.  The waffles themselves are crispy on the outside yet still soft on the inside.  They have just the right hint of lemon flavor, with all the pretty poppy seeds sprinkled throughout.  And the blueberry maple syrup?  Yeah, it's pretty awesome.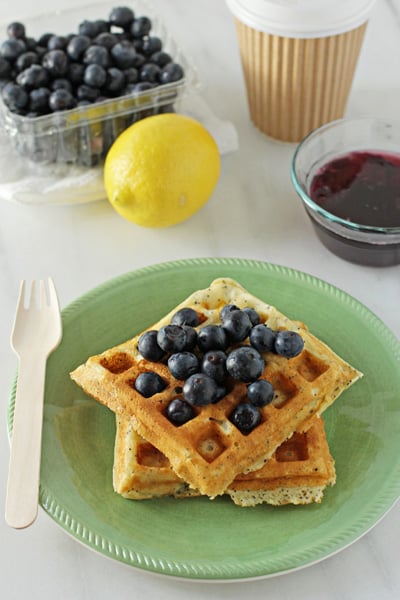 And no, I am not ashamed to admit that I may have licked my plate clean.
Yield: about 8 (4x4 inch) waffles
Lemon Poppy Seed Waffles with Blueberry Maple Syrup
Recipe for lemon poppy seed waffles with a blueberry maple syrup. Light, crisp and full of flavor.
Ingredients:
For the blueberry syrup:
1 cup blueberries
1 cup pure maple syrup
1 teaspoon freshly squeezed lemon juice
For the waffles:
¾ cup all-purpose flour
¼ cup cornstarch
½ teaspoon salt
½ teaspoon baking powder
¼ teaspoon baking soda
1 tablespoon poppy seeds
1 cup buttermilk
5 tablespoons vegetable oil
1 tablespoon lemon zest (from one lemon)
1 large egg, separated
½ teaspoon vanilla extract
¼ teaspoon almond extract
1 tablespoon granulated sugar
additional blueberries for serving, if desired
Directions:
To make the blueberry maple syrup – add the blueberries, maple syrup and lemon juice to a small saucepan set over medium heat. Cook for about 3 to 4 minutes, until the blueberries are slightly softened. Use a wooden spoon to mash the blueberries in the saucepan. Cook for about 1 to 2 additional minutes, until the mixture starts to simmer and foams up a little bit.
Remove the pan from the heat. Carefully pour the mixture through a fine mesh sieve to remove the blueberry solids. Set aside the strained syrup to serve with the waffles.
To make the waffles – in a medium bowl, whisk together the flour, cornstarch, salt, baking powder, baking soda and poppy seeds. Set aside. In a small bowl or liquid measuring cup, whisk together the buttermilk, vegetable oil, lemon zest, the egg yolk, vanilla extract and almond extract. Set aside.
Using either a hand mixer or a stand mixer fitted with the whisk attachment, beat the egg white until almost soft peaks. Add the sugar to the bowl and beat again until the peaks are glossy and firm. Set aside.
Add the buttermilk mixture to the bowl with the dry ingredients and whisk until just combined. Drop in dollops of the whipped egg white and use a spatula to gently fold into the batter until just incorporated.
Preheat a waffle maker. When hot, pour the recommended amount of batter into the waffle maker according to the manufacturer's instructions. Cook until golden brown. Repeat with the remaining batter.
Serve with the blueberry maple syrup and additional fresh blueberries, if desired.