Strawberry Pistachio Thumbprint Cookies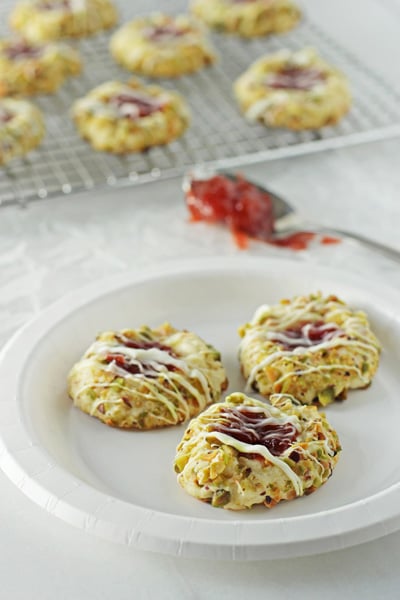 Christmas in … May?  I know, I know, most people think of thumbprint cookies during the holiday baking season … buttttt I really wanted to make some.  So I did.  And I threw in some strawberry preserves because strawberries are summery right?  I say it's perfectly acceptable to make these all year round.
But if you do make these, I definitely suggest buying the pre-shelled pistachios.  My fingers hated me after prying open a boatload of the shelled kind.  Although my lovely beagle did enjoy herself – we played a fun game of me flinging the shells everywhere and trying to dart around and get them before she did.  Thankfully I won.  It also helps when your husband comes in the kitchen to see what all the yelling is about and then just picks up your beagle and brings her into another room.  Husband for the win.
But let's get back to the cookies.  The cookie base is nice and buttery, sweet but not too sweet.  They are rolled in finely chopped pistachios for a little salty crunch and then filled with wonderfully sweet strawberry preserves.  And a final touch?  A little melted white chocolate – to make them extra pretty.
Bonus points if you get white chocolate all over your counters since you are having too much fun using a fork to fling the chocolate on the cookies.
Yield: about 18 to 20 cookies
Strawberry Pistachio Thumbprint Cookies
A recipe for strawberry pistachio thumbprint cookies. A buttery base rolled in pistachios for a little salty crunch and finished with strawberry preserves.
Ingredients:
½ cup (1 stick) unsalted butter, room temperature
½ cup confectioners' sugar
1 large egg yolk
1 teaspoon vanilla extract
¼ teaspoon almond extract
1 cup all-purpose flour
pinch of salt
½ cup shelled pistachios, finely chopped
¼ cup strawberry preserves
white chocolate (about 2 ounces), for drizzling
Directions:
In the bowl of a stand mixer fitted with the paddle attachment, add the butter and confectioners' sugar. Beat on medium high for about 1 minute, until smooth and creamy. Add in the egg yolk, vanilla extract and almond extract and beat until combined. Add in the flour and salt. Mix on low speed until incorporated. Remove the bowl from the mixer and chill in the refrigerator for 30 minutes.
Preheat the oven to 350 degrees. Line a baking sheet with parchment paper and set aside.
Scoop a small portion of dough and roll into a ball (about 1 inch in size – I used my small cookie scoop). Roll each ball in the chopped pistachios (use your fingers to gently press the nuts into the dough if necessary). Place the balls on the prepared baking sheet. Use your finger to make a deep indentation in the center of each cookie. You can place the cookies fairly close together on the baking sheet as they won't spread much during baking.
Bake for 10 to 12 minutes. If needed, as soon as the cookies come out of the oven, use a small spoon to reinforce the well in the center of each cookie (so the preserves have a place to sit). Let the cookies cool for about 5 minutes on the baking sheet, then remove to a wire rack to cool completely.
Once cool, fill each indentation with a small amount of strawberry preserves. If desired, melt the white chocolate (microwave at 50 percent power for 30 second intervals until the chocolate is completely melted). Drizzle the melted chocolate over the cookies.
Adapted from a family recipe given to me by my mom.