Macadamia Caramel Tart
It's time to get all cliche around here.  I've officially been married for two whole years.  Where has time gone?  Sometimes it feels like just yesterday we were getting married.  And then at others it feels like we've been married for a lot longer than just two years – I mean that in a good way not bad!
We kept it pretty low key and celebrated our anniversary at home.  One of the most meaningful gifts that we received at our wedding were two beautiful champagne flutes.  They came with a note explaining how we should use them – a tradition that the couple who gave them to us was given on their own wedding day many years prior.  Each year on our anniversary we must take out the flutes and drink a bottle of champagne.  They can't be used for anything else – just that one day a year.  So for the second year in a row, that's exactly what we did.  Drink champagne out of our special flutes.  And eat this tart.
So let's talk about this tart.  It is very similar to a dessert that we had on our honeymoon.  I have been determined to recreate it ever since we got back, but a few other attempts just were not like the version I remembered.  But this is it.  My husband thinks it's crazy that I remember what we ate on our honeymoon.  I think he's just secretly jealous that my mind is so sharp.
This macadamia caramel tart is basically like a pecan pie but with macadamia nuts.  Instead of a traditional flaky pie crust, there is a wonderfully nutty pastry (as some of the flour is replaced with ground macadamia nuts).  The filling itself is gooey and sweet, with a little salty mixed in from the roasted nuts.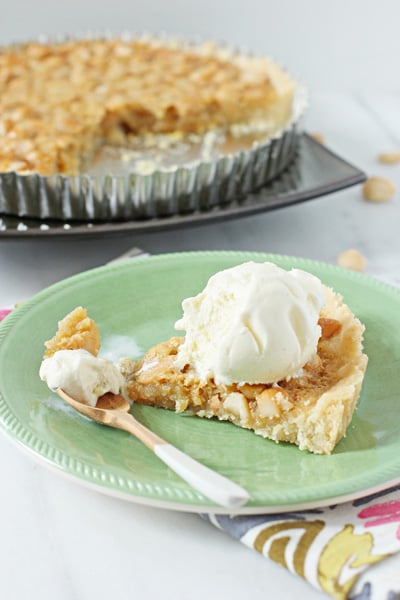 And you can go right ahead and top with a big scoop of ice cream.
Macadamia Caramel Tart
Macadamia caramel tart recipe. With a nutty buttery crust and a gooey, sweet yet slightly salty filling, this tart is perfect for any occasion.
Ingredients:
For the crust:
½ cup dry roasted salted macadamia nuts
1 cup all-purpose flour
2 tablespoons granulated sugar
pinch of salt
10 tablespoons unsalted butter, cold and cut into pieces
1 teaspoon vanilla extract
1 tablespoon cold water
For the filling:
¼ cup plus 1 tablespoon packed light brown sugar
¼ cup light corn syrup
1 large egg
1 large egg yolk
1 ½ tablespoons unsalted butter, melted and cooled slightly
1 teaspoon vanilla extract
1 cup dry roasted salted macadamia nuts, roughly chopped
For serving:
vanilla ice cream, if desired
Directions:
To make the crust – add the ½ cup of macadamia nuts to the bowl of a food processor. Process until finely ground. Add in the flour, sugar and salt. Pulse a few times to combine. Add in the butter and vanilla extract. Process until just combined. Add in the water and process again until the dough is evenly moistened. Dump the dough into a 9-inch tart pan with a removable bottom. Use your fingers to press the dough into the bottom and sides of the pan. Transfer to the freezer for about 15 minutes, until firm.
Meanwhile, preheat the oven to 375 degrees. When the crust is firm, prick the dough a few times with a fork. Place on a baking sheet and bake for about 15 to 20 minutes, until slightly golden. Transfer to a wire rack to cool while you make the filling. Reduce the oven temperature to 325 degrees.
To make the filling – in a medium bowl, whisk together the brown sugar, corn syrup, egg, egg yolk, melted butter and vanilla extract until combined. Place the 1 cup of nuts evenly in the baked tart crust. Pour the brown sugar mixture evenly over the nuts in the crust. Place the tart pan on a baking sheet and bake in the 325 degree oven for about 27 to 30 minutes, until set (if the crust starts to brown too quickly, tent with foil). Let the tart cool for at least several hours before serving.
While I used a tart pan with a removable bottom, I left the tart in the pan completely to serve. I destroyed this tart the first time I made it by trying to remove the sides before serving. Just a note of caution – you may be more skilled than me in removing it from the pan!