Corn Chowder with Squash and Zucchini
And we're back!  We are for the most part settled into our new place in North Carolina.  Well, by settled I mean all the big things are unpacked and the boxes are gone but there is still stuff everywhere.  It's kinda driving me crazy.  I am a very organized person (more like obsessively organized) but some of our things just don't quite work the way they did in our old house.  So we're trying to figure out what to do with them and how to reorganize in a way that makes sense.  It's harder than it seems.
But enough about boring unpacking.  My kitchen is completely done and ready to go – it was the very first room I tackled when we moved in.  And this was the first meal I made to break it in – corn chowder with squash and zucchini.
I actually made this chowder before we moved, but by that point most of my things were packed up and I couldn't get any photos to share it here with you.  You see, my husband has been asking and asking for me to make corn chowder for ohhh… probably the last two years.  I'm not really sure why I waited until last month to make it for him, especially since it's something that I like too.
But now that I've made it, I'm hooked.  I love that this version is a little different and is packed full of plenty of summer squash and zucchini.  And for a fantastic summer meal, go ahead and serve it with my very favorite honey yeast rolls.  They are the perfect vehicle for dipping into the last bit of soup.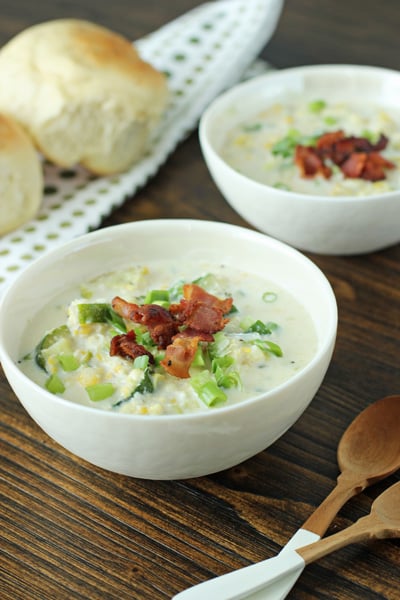 And if you're eating this as your first homemade meal after being forced to eat out for too long since your kitchen was in boxes?  Try to control yourself better than me – I ate a little more than I should have in one sitting.
Yield: about 5 to 6 servings
Corn Chowder with Squash and Zucchini
Recipe for corn chowder with squash and zucchini. A fun spin on a classic summertime soup.
Ingredients:
For the soup:
6 slices bacon, chopped
6 green onions, sliced
2 stalks celery, chopped
1 pound yellow squash (about 3 medium), chopped
1 pound zucchini (about 3 medium), chopped
1 pound frozen white corn kernels, thawed and divided
1 pound frozen yellow corn kernels, thawed and divided
4 ½ cups milk, divided
1 ½ teaspoons minced fresh rosemary
1 ½ teaspoons salt
½ teaspoon freshly ground black pepper
For serving:
freshly shredded cheddar cheese
additional thinly sliced green onions
Directions:
Set a large stockpot or dutch oven over medium-high heat. When hot, add the bacon to the pot and cook, stirring occasionally, until crisp. Use a slotted spoon to remove the bacon to a paper-towel lined plate and set aside. Reserve 1 ½ tablespoons of the bacon fat and discard the rest.
Reduce the heat to medium and add the green onions, celery, squash and zucchini to the bacon drippings in the pot. Cook for about 8 to 10 minutes, stirring occasionally, until the veggies are tender.
Meanwhile, reserve 1 cup of each kind of corn and set aside. Place the remaining corn and 2 cups of the milk into a blender. Process until the mixture is smooth.
When the veggies are done, add the mixture from the blender, the reserved corn kernels, the remaining 2 ½ cups milk, the rosemary, salt and pepper into the pot. With the heat still on medium, cook for about 10 to 15 minutes until the soup is thoroughly heated, stirring occasionally. Season with additional salt and pepper to taste if needed.
Ladle the soup into bowls and top with the bacon pieces, cheddar cheese and additional green onions.