Vanilla Bean Sea Salt Caramels with Bourbon
These soft and chewy vanilla bean sea salt caramels are absolutely addicting! Sweet, salty and filled with just a touch of warm bourbon flavor, they make for the perfect homemade gift!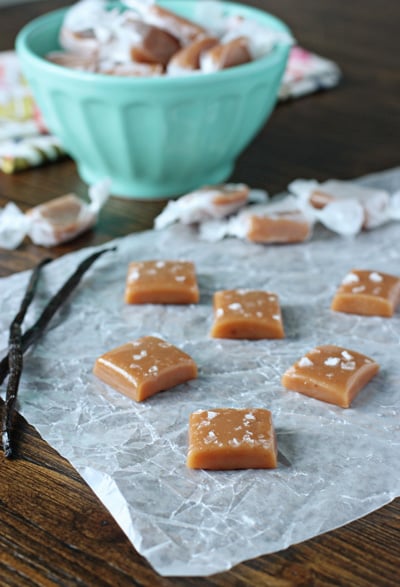 Note: This recipe is NOT dairy free. It was published before Cook Nourish Bliss transitioned to dairy free recipes and remains popular with long time readers. You can try using substitutions to make it dairy free, however I have not tested this myself and can't say how it will turn out.
I had no intention of blogging these caramels.
I was looking for a fun kitchen project to give to a neighbor as a gift. You see, one of our new neighbors brought over a pie to welcome us to the area.
Seriously, it was the nicest thing ever. I still can't get over how sweet it was.
I wanted to make something small as a thank you for the aforementioned pie. I've had caramels on my must-try list for a very long time and figured there was no reason to wait any longer to give them a whirl.
The verdict? I'm obsessed.
Like I've made two batches in less than a few days obsessed.
We gave away most of the first batch to our neighbor and realized that we just had to have more to snack on. But be warned … they are dangerously addictive.
I had to hide the last ones from my husband so he didn't get to them before me. No shame.
And since I'm so obsessed I knew I had to share them here with you.
If you're not a huge fan of bourbon, don't worry. The flavor is not super strong at all and it more just compliments the vanilla and sea salt. A very wonderful combination indeed.
Oh and did I mention that these are soft and chewy? Sweet and salty? My new personal kryptonite? Sigh, maybe I should hide them from myself…
Additional Homemade Candy Recipes You Might Enjoy!
Did you make this recipe? Rate and review it down below! I'd love to hear from you.
Ingredients
1 cup heavy cream
5 tablespoons unsalted butter, cut into 1-inch chunks
1 vanilla bean, split lengthwise and scraped
1 ¼ teaspoons sea salt, plus more for sprinkling
½ teaspoon vanilla extract
1 tablespoon bourbon
1 ½ cups granulated sugar
¼ cup light corn syrup
¼ cup water
Instructions
Line the bottom and the sides of an 8-inch square baking pan with parchment paper. Use butter to lightly grease the parchment and set aside.
Add the cream, butter, vanilla bean seeds and pod, and the 1 ¼ teaspoons sea salt to a small saucepan. Bring the mixture to a boil over medium high heat. Once it is boiling, turn off the heat and stir in the vanilla extract and bourbon. Set aside.
Add the sugar, corn syrup and water to a heavy saucepan (3 to 4 quart). Bring the mixture to a boil over medium high heat, stirring only until the sugar has dissolved.
Attach a candy thermometer to the pan. Continue to boil the mixture without stirring (but gently swirling the pan) until it is a light golden caramel color (about 310ºF to 315ºF on the thermometer).
Remove the vanilla bean pod from the pan with the cream and then very carefully and slowly pour the cream mixture into the caramel, stirring constantly (the mixture will bubble and rise up).
Allow the mixture to continue to simmer, stirring frequently, until it registers 248ºF on the thermometer. Immediately remove the pan from the heat and pour the mixture into the prepared baking pan.
Allow the caramel to cool for 30 minutes.
Sprinkle the top of the caramel with additional sea salt, then let the caramel sit until it is completely cooled.
Use the parchment to lift from the pan. Use a lightly greased pizza cutter to cut the caramel into 1-inch pieces. Wrap each piece individually in pieces of wax paper.
Nutrition Information:
Yield:

32
Serving Size:

1
Amount Per Serving:
Calories:

86
Total Fat:

4g
Saturated Fat:

3g
Trans Fat:

0g
Unsaturated Fat:

1g
Cholesterol:

13mg
Sodium:

87mg
Carbohydrates:

12g
Fiber:

0g
Sugar:

12g
Protein:

0g
Nutrition data shown is an estimate provided by an online calculator and is for informational purposes only. It should not be considered a substitute for a medical professional's advice.