Fresh Basil Ricotta Yogurt Dip with Peaches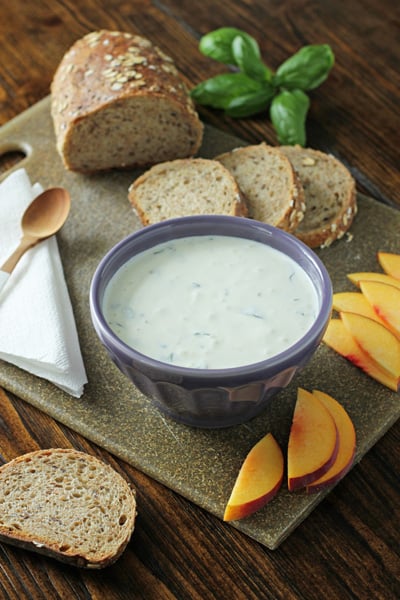 Like I've mentioned quite a few times before, we are big snackers in our house.  To keep things interesting, I'm always brainstorming new ideas for healthy snacks to have on hand.  That way I don't reach for a cookie when I'm starving and still working on getting dinner ready.
You already know that I'm, ahem, mildly obsessed with fresh peaches these days and our basil plant has been growing out of control.  And one can only make so much pesto before getting bored.
That's where this lovely snack came in hand.  A great way to use some peaches, basil and wind up with something that is satisfying and that you can still feel good about.  I couldn't decide whether to call this a dip or a spread – it's a cross between the two.  A deliciously slightly cheesy spread (or dip?) that has just a bit of kick.  Slather it on top of a piece of crusty bread and top with some peach slices.  And if you're feeling fancy?  Go ahead and drizzle with a touch of balsamic glaze.  Oh my.
I'm off to enjoy more of this dip.  Except I'm out of peaches.  Clearly I need to buy more.  It's a vicious cycle I tell you.
Fresh Basil Ricotta Yogurt Dip with Peaches
Recipe for fresh basil ricotta yogurt dip. Made with greek yogurt and ricotta cheese, this healthy dip pairs perfectly with crusty bread and fresh peaches.
Ingredients:
For the dip:
1 cup plain greek yogurt
1 cup ricotta cheese
2 tablespoons minced fresh basil
¼ teaspoon onion powder
½ teaspoon sea salt
pinch of red pepper flakes, or more to taste
For serving:
slices of crusty bread
sliced peaches
balsamic glaze, optional
Directions:
In a medium bowl, add the greek yogurt, ricotta, basil, onion powder, salt and red pepper. Mix to combine.
To serve, slather on a piece of bread. Top with a few peach slices. If using, drizzle with a touch of balsamic glaze.