End of Summer Housewarming Party
We're going to go ahead and call this our end of summer housewarming party – even if that's only kinda sorta what it was.  Really, it was just an excuse to have some people over and the first party we've had since we moved to North Carolina.  Housewarming party it is.  It sounds much better than "random summer party."
I wanted to have at least some type of theme tying everything together and finally settled on summer carnival / games.  The whole inspiration came from these bad boys.
Yes, I totally asked for a cornhole game set for my birthday.  My husband delivered – and even got me a beverage tower / scoreboard to go along with it.  Not gonna lie – it's pretty awesome.  I'm a little sad I didn't get a better picture of the combination beverage tower / scoreboard – so you could really see just how cool it is (well at least I think so).
I had a ton of fun putting together the food table, especially getting to use some of my serving platters and other fun food items (like popcorn boxes – seriously I die – they are just so cute).
This is what I came up with:
Main Food:
– watermelon feta bites with balsamic glaze (glaze not pictured)
– grilled chicken, tomato and cucumber cups with garlic bread
– sweet and spicy meatballs
– pesto pasta salad
– southwestern black bean salad
Snacks:
– homemade soft pretzels
– caramel apple popcorn
– chili lime tequila popcorn
Dessert:
– pina colada cupcakes
– s'mores brownies
– peanut butter oatmeal chocolate chunk cookies
– berry cups
Beverages:
– peach and raspberry sangria
– water with orange slices
– assorted beer and wine (courtesy of our guests!)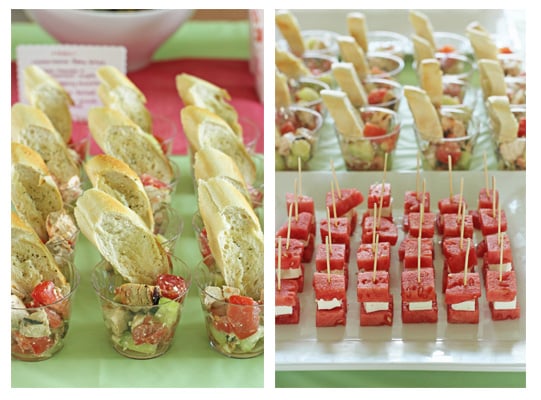 I've also noticed that the more we have parties, the better and better I'm getting at estimating how much food we'll need.  And that is pretty cool.  *Pats myself on the back.*
My husband also made fun of me for creating a massive timeline so that I could spread all the cooking out over a few days.  But hey – I wasn't stressed and everything went smoothly.  So I think we all know that my timeline wins – sorry husband.
We had a great time and my team even won at cornhole … although we may have cut the game short after realizing we were all so bad that it would take a very long time to get to 21 points.  10 points for the win instead.  Go team.