Vanilla Bean Cupcakes
At heart, I am a vanilla cake kind of girl.  As much as I love chocolate and red velvet (which is my other favorite), there is something so wonderful and classic about vanilla on vanilla.  Doubly wonderful when you make that vanilla bean – both for the cake and frosting.
When I was deciding what to make for a treat for my birthday (yes, I like to bake for myself), I just couldn't get vanilla out of my head.  Of course my husband strongly encouraged this, seeing as how vanilla bean anything is his absolute favorite.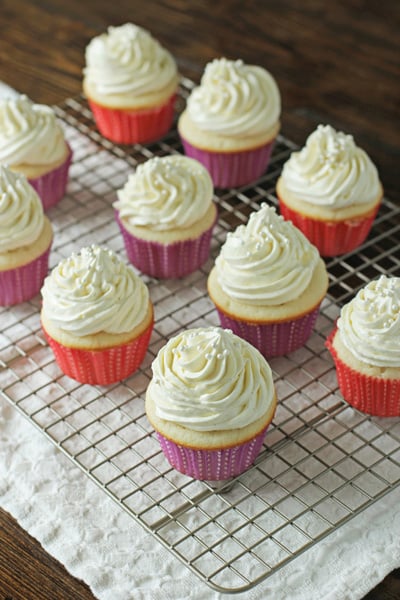 After a few not so great vanilla bean cupcake recipes over the last two years, I had almost given up hope that I'd find one I would be happy with.  But here it is.  A birthday gift to myself that I finally found it.
And oh is it good.  The cupcake base is light and fluffy.  Almost delicate.  And the frosting.  My my the frosting.  A vanilla bean swiss meringue buttercream, that is so smooth and dreamy and cloudlike and amazing.  Really this whole cupcake is like a beautiful vanilla cloud.  Can you tell that we were smitten with these?
A vanilla bean cloud.  Now that's not such a bad idea…
Vanilla Bean Cupcakes
Recipe for double vanilla bean cupcakes. Made with a light and fluffy cupcake base and a vanilla bean swiss meringue buttercream that is silky smooth.
Ingredients:
For the cupcakes:
2 ¼ cups cake flour
1 tablespoon baking powder
½ teaspoon salt
1 ¼ cups buttermilk
4 large egg whites
1 ½ cups granulated sugar
1 vanilla bean, split lengthwise and scraped
½ cup (1 stick) unsalted butter, room temperature
1 ½ teaspoons vanilla extract
For the frosting:
5 large egg whites
1 cup plus 2 tablespoons granulated sugar
pinch of salt
2 cups (4 sticks) unsalted butter, room temperature
2 teaspoons vanilla extract
1 vanilla bean, split lengthwise and scraped
Directions:
To make the cupcakes – preheat the oven to 350 degrees. Line cupcake pans with liners and set aside.
In a medium bowl, sift together the cake flour, baking powder and salt. In another medium bowl, whisk together the buttermilk and egg whites. In the bowl of a stand mixer fitted with the paddle attachment, add the granulated sugar, vanilla bean seeds and butter. Beat on medium speed for 3 minutes, until it is very light. Add in the vanilla extract and beat until incorporated. With the mixer on low speed, add in one third of the flour mixture. Next, add in half of the buttermilk mixture, beating until incorporated. Repeat this process, one third flour mixture, remaining half buttermilk mixture. Finally add in the remaining third of the flour mixture. Once incorporated, increase the speed to medium low and beat for 2 minutes, to ensure it is well aerated. Fill the prepared cupcake tins evenly with the batter (about ⅔ of the way full).
Bake for about 18 minutes, or until a toothpick inserted into the middle comes out clean. Let the cupcakes cool for about 5 minutes in the pan, then remove to a wire rack to cool completely before frosting.
To make the frosting – add the egg whites, sugar and salt to a heatproof bowl. Set the bowl over a saucepan of simmering water. Whisk the mixture almost constantly until the temperature reaches 160 degrees (if you don't have a thermometer, the sugar should be completely dissolved and the mixture should feel completely smooth if you rub it between your fingers).
Carefully transfer the mixture to the bowl of a stand mixer fitted with the whisk attachment. Start on low and gradually increase the speed to medium high. Whip until it is stiff and glossy, and the bottom of the bowl feels neutral to the touch (it should not be warm), about 10 minutes.
With the mixer on medium low speed, slowly add in the butter, a few tablespoons at a time. Mix well after each addition before you add more. Next, add in the vanilla and vanilla bean seeds and mix to combine. Switch to the paddle attachment and beat on medium until the frosting is smooth and has a silky texture (this usually takes a few minutes). If the mixture looks curdled, just keep beating and it will come back to a smooth texture.
Frost the cooled cupcakes as desired.