Skillet Apple Crisp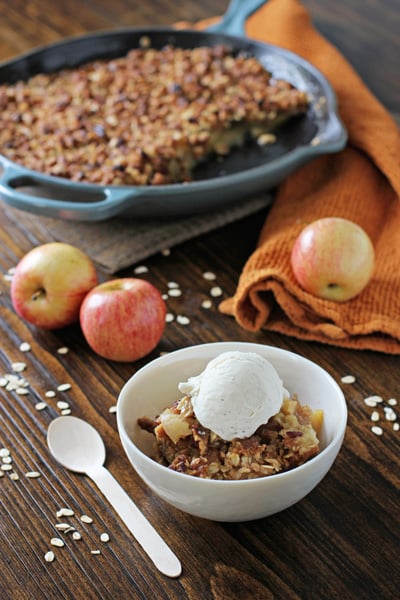 For the last two weeks or so, I've been buying a ridiculous amount of apples each week at the grocery store.  I seem to have this problem quite often – usually when the seasons change and another fruit is back in business.  And right now, I can't stop buying apples.
We have no problem going through all these apples, especially as one sliced up with some peanut butter is a very favorite snack of mine.  But I decided I should probably do a few things that are slightly more interesting.  Seeing as how I highly doubt you'd like to see a post on how to slice up an apple and slather it with some peanut butter : )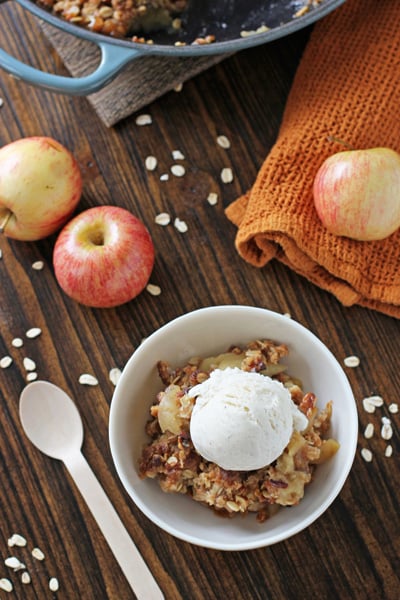 So, instead I give you this skillet apple crisp.  And please, if you only make one apple crisp this season make this version.  I may have stood there and had a few spoonfuls right after it came out of the oven.  Without any vanilla bean ice cream on top.  Which never happens – so let that tell you just how good this is.
The apples are cooked perfectly and not at all mushy.  The apple flavor is intensified even further by the use of apple cider.  And the topping?  An awesome thick layer filled with oats, crunchy pecans and plenty of fall spices.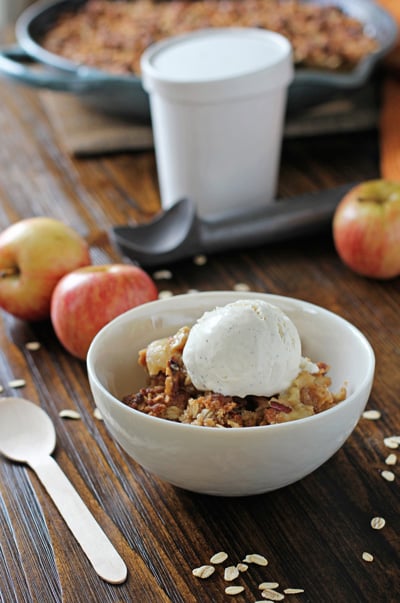 And even though I had a few bites of this without ice cream, don't do it.  This crisp deserves to be topped with a big ol' scoop of your favorite vanilla ice cream.  Served in an extra big bowl of course.
Skillet Apple Crisp
Recipe for skillet apple crisp. Packed with perfectly cooked apples and a thick topping filled with oats and crunchy pecans. Serve with vanilla ice cream.
Ingredients:
For the topping:
¾ cup all-purpose flour
¾ cup pecans, finely chopped
¾ cup rolled oats
½ cup packed light brown sugar
¼ cup granulated sugar
½ teaspoon ground cinnamon
pinch of ground nutmeg
½ teaspoon salt
8 tablespoons (1 stick) unsalted butter, melted
For the filling:
3 pounds (about 7 medium) golden delicious apples, peeled, cored and cut into ½ inch slices
¼ cup granulated sugar
1 vanilla bean, split lengthwise and scraped
¼ teaspoon ground cinnamon
1 cup apple cider
2 teaspoons freshly squeezed lemon juice
2 tablespoons unsalted butter
For serving:
Directions:
To make the topping – preheat the oven to 450 degrees. In a medium bowl, add the flour, pecans, oats, brown sugar, granulated sugar, cinnamon, nutmeg and salt. Mix to combine, making sure to break up any clumps of brown sugar. Add in the melted butter and mix until evenly moistened and crumbly. Set aside.
To make the filling – in a large bowl, add the apple slices, sugar, vanilla bean seeds and cinnamon. Toss to combine and set aside. Set a 12-inch oven-safe skillet over medium heat. Add in the apple cider and bring to a simmer. Cook until the liquid is reduced to ½ cup, about 5 minutes. Carefully pour the cider into a small bowl or liquid measuring cup. Stir in the lemon juice and set aside.
Add the 2 tablespoons butter to the skillet. Melt the butter over medium heat. Once melted, add in the apple slices mixture. Cook, stirring frequently, for about 12 to 14 minutes, until the apples are softened (but not fully cooked). Remove from the heat and pour in the cider mixture. Stir to combine.*
Sprinkle the topping evenly over the filling in the skillet. Place the skillet on a large baking sheet and transfer to the oven. Bake for about 15 to 20 minutes, until the topping is a deep golden brown. Remove from the oven and let cool for at least 15 minutes before serving.
While golden delicious apples are preferred, other sweet and crisp apples can be substituted (like honeycrisp or braeburn). Do not use granny smith apples for this recipe.
*If you do not have an oven-safe skillet, prepare the filling and then transfer it to a 9×13 inch baking dish. Sprinkle with the topping as directed and then bake for 5 additional minutes.