Homemade Pumpkin Spice Coffee Syrup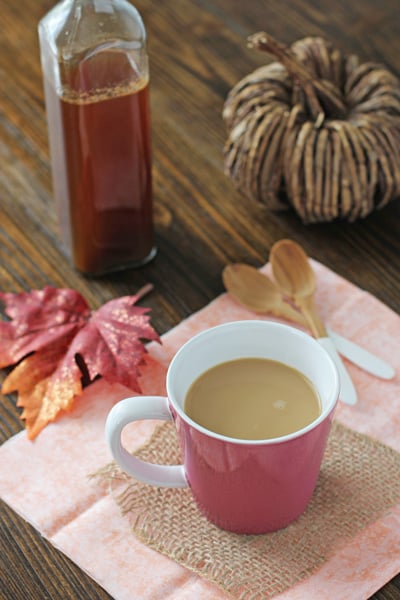 As I've said many many times before, we love coffee at our house.  It's probably in your best interest that you don't speak to either me or my husband before we've had a cup in the morning.  Cranky best describes our behavior without it.  Primarily my behavior.  He can handle no coffee better than I can.
Ever since I discovered how to make vanilla coffee syrup at home, I can honestly say that I have not once purchased the store-bought kind of vanilla creamer.  Which I love.  Every morning I add a splash of half and half and some homemade vanilla syrup to my coffee.  And it's amazing.  And I'm never going back.
I've been so enamored with the vanilla syrup that I never branched out to other flavors.  But this fall I figured it was time.  Especially to keep my coffee runs in check … I have a soft spot for seasonal drinks from coffee shops.
So today I give you homemade pumpkin spice coffee syrup.  I now keep a container of this and the vanilla version in my fridge at all times.  Because this stuff makes my coffee taste like fall.  And is pretty much exactly like what you can get at a coffee shop.  But better (at least in my opinion).  Personally, I just like to add this syrup and half and half to my coffee – more like the kind of creamer you can buy at the grocery store – but you can definitely use it to make pumpkin spice lattes at home.
So, please make this syrup this season.
Because I have a feeling I'm not the only one who would prefer to keep their coffee shop spending under control.
And because you can use it in iced coffee too.  It's still kinda warm here and I'm currently waffling back and forth between hot and iced coffee … it's a dilemma I tell you.
Homemade Pumpkin Spice Coffee Syrup
Recipe for homemade pumpkin spice coffee syrup. No need to buy pumpkin creamer or pumpkin spice lattes – make them at home instead!
Ingredients:
1 ½ cups water
1 cup granulated sugar
½ cup lightly packed light brown sugar
4 cinnamon sticks
1 teaspoon ground nutmeg
½ teaspoon ground cloves
½ teaspoon ground ginger
¼ cup pumpkin puree (not pumpkin pie filling)
Directions:
Add the water, granulated sugar and brown sugar to a small saucepan. Set over medium-high heat and cook, stirring occasionally, until the sugar has completely dissolved. Add in the cinnamon sticks, nutmeg, cloves, ginger and pumpkin puree. Whisk to combine. Reduce the heat to medium-low and continue to cook for about 5 minutes, whisking frequently. Remove from the heat and let sit for about 15 minutes.
Pour the mixture through a fine mesh strainer or cheesecloth. Store in a container in the refrigerator.