Crockpot Asian Short Ribs
Let's start this week off with a big ol' plate of delicious shredded meat.  And say a little thank you to the crockpot for turning out something so tender and tasty.  We're talking so tender that the meat will fall rightttt off the bone.  Just the way I like it.
Slow cooked and jazzed up with some soy sauce, ginger and garlic … and with a little bit of kick from red pepper flakes.  Serve these short ribs over some coconut rice and with a side of bok choy – and bam!  Perfect meal.
And it feels a little special, you know what I mean?  Not your everyday kind of dinner.  I'm thinking it would be a perfect dish to make for the pink heart holiday coming up if you're planning on doing a little celebrating at home.
Which is exactly what we will be doing.  None of that prix fixe menu garbage – I tend to get a little cranky when I can't order what I want.  We learned that lesson a few years ago.
It's not pretty folks.  Especially when you're at your favorite restaurant and can't order the one dish you have been thinking about for weeks.  Weeks!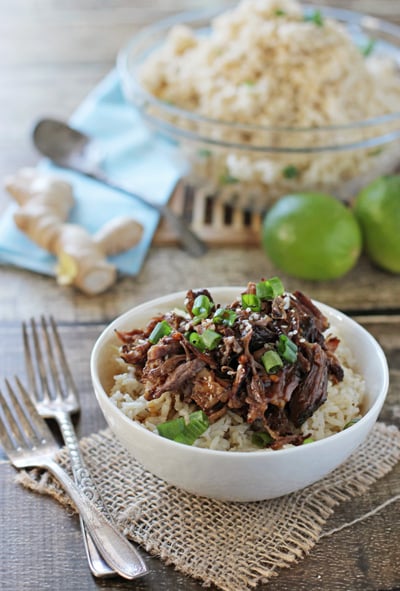 So don't be disappointed.  And rely on your crockpot instead.  It will do you no wrong.
Crockpot Asian Short Ribs
Recipe for crockpot asian short ribs. Tender, fall off the bone beef short ribs with soy sauce, ginger and garlic. Serve with coconut rice and bok choy.
Ingredients:
For the short ribs:
about 2 tablespoons olive oil, divided
3 ½ pounds beef short ribs
salt and pepper
½ cup low sodium soy sauce
⅓ cup loosely packed brown sugar
¼ cup rice vinegar
3 to 4 cloves garlic, minced
1 tablespoon freshly grated ginger
½ teaspoon red pepper flakes
2 tablespoons cornstarch
1 tablespoon water
For serving:
green onions, thinly sliced
sesame seeds
Directions:
Set a large skillet over medium high heat. Add in about 1 tablespoon of the olive oil. When hot, add in as many short ribs as will comfortably fit in the pan. Sprinkle with a little salt and pepper. Brown both sides of the short ribs (about 2 minutes per side). Remove from the pan to a plate and repeat with the remaining olive oil and short ribs (only use the additional oil if needed, you may not need to add any to the pan).
In a 6-quart crockpot, add the soy sauce, brown sugar, vinegar, garlic, ginger and red pepper flakes. Whisk until well combined, until the sugar sort of dissolves into the liquid. Add the short ribs to the pot, arranging in a single layer. Cover and cook on high for about 6 hours, until the meat is really tender and easily comes away from the bone.
Carefully transfer the short ribs to a cutting board. Skim off any fat that may be in the sauce in the pot. In a small bowl, whisk together the cornstarch and water. With the crockpot still on high, add the cornstarch mixture to the pot and whisk to combine. Cover and let cook for about 5 minutes, until the sauce thickens up just a bit. Meanwhile, if desired, shred the meat with two forks (you can serve these either on or off the bone – mine fell right off the bone so I shredded the meat and served that way).
To serve, spoon some of the coconut rice onto a serving dish. Top with the short ribs. Spoon on some of the sauce and then sprinkle with the green onions and sesame seeds.