Hearty Chipotle Chicken Soup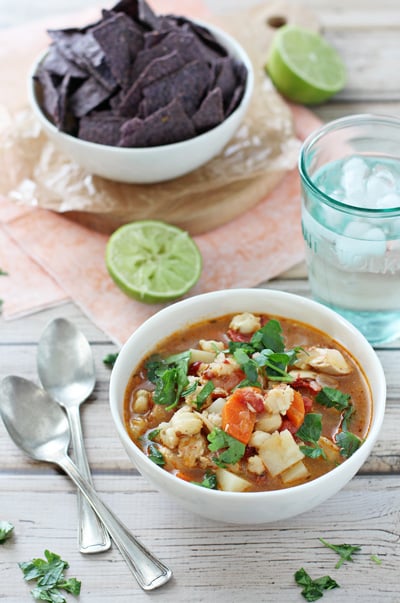 Our weather is all kinds of crazy right now.  Which I'm sure a lot of you can relate to as well.  This weekend it was gorgeous – sunny and warmer – and I was running around outside without a coat like a kid in a candy shop.  And them bam – we got ice and sleet and now it's freezing (below freezing technically) again.  I actually really do like winter, but right now I am soooo over it.
To stay warm we've been eating a lot of soup.  My consolation prize for dealing with the frigid temps.  Because I love me some soup.  And not to lie, because I will eat it during the summer too – but during the winter it's even better.  And that's a fact.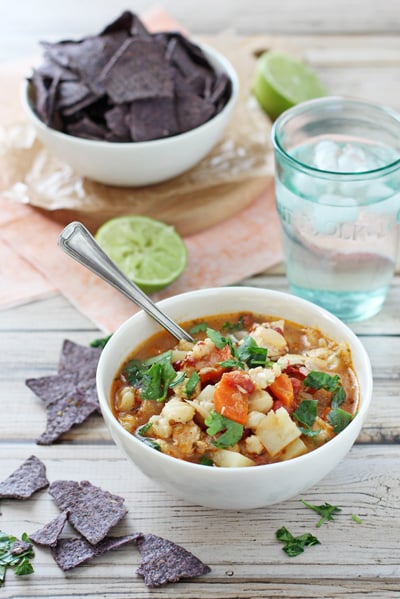 But today I feel like a bad friend.  I've been making this hearty chipotle chicken soup since the fall I believe … and just now thought to share it here.  Bad bad.  Because it's good good.  Filling, yet not too heavy, and chock full of goodness with plenty of chicken, veggies and smoky spice.
And you can go ahead and finish it off with some fresh parsley, a good squeeze of lime juice and a big ol' helping of your favorite tortilla chips.  The chips are totally not optional.  I think I love tortilla chips a little too much for my own good…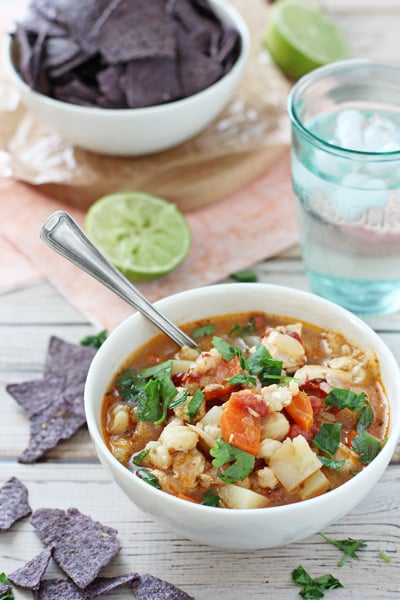 But I mean, don't you just want to do a face plant right into that bowl?  No, just me?
Hearty Chipotle Chicken Soup
Recipe for hearty chipotle chicken soup. Filled with shredded chicken, potatoes, plenty of veggies and smoky spice. Filling yet still nice and light.
Ingredients:
For the soup:
1 ½ tablespoons olive oil
2 medium onions, chopped
2 large carrots, chopped
1 chipotle pepper in adobo sauce, minced
1 teaspoon ground cumin
½ teaspoon dried oregano
½ teaspoon dried thyme
4 garlic cloves, minced
¾ teaspoon salt
¼ teaspoon pepper
6 cups low-sodium chicken or veggie broth
2 large boneless, skinless chicken breasts
2 medium red potatoes, cut into ½ inch pieces
1 (15.5 ounce) can white hominy, drained and rinsed
¼ cup heavy cream (or half and half)
1 teaspoon adobo sauce*
1 (14 ounce) can diced fire-roasted tomatoes
For serving:
chopped fresh parsley
lime wedges
tortilla chips
Directions:
Set a large stockpot over medium heat. Add in the olive oil. When hot, add in the onions and carrots. Cook for about 5 to 7 minutes, stirring occasionally, until tender. Add in the chipotle pepper, cumin, oregano, thyme, garlic, salt and pepper. Cook for 30 seconds to 1 minute, until fragrant. Add in the chicken (or vegetable) broth, increase the heat and bring to a boil. Once boiling, add in the chicken breasts. Cover, turn down the heat to medium / medium-low and let simmer for about 20 minutes, until the chicken is cooked through (160 to 165 degrees on an instant-read thermometer – how long it will take to cook will depend on the thickness of your chicken breasts). Transfer the chicken to a cutting board and set aside.
Return the pot to medium heat and add in the potatoes and hominy. Cook for about 20 minutes, until the potatoes are tender (the mixture will come to a simmer). Meanwhile, shred or chop the chicken (once it has cooled down a bit).
Once the potatoes are tender, add the shredded chicken to the pot, along with the cream, adobo sauce and tomatoes. Turn the heat down to medium-low and cook for an additional 5 minutes. Season with additional salt/pepper to taste, if needed.
Serve with fresh parsley, lime wedges and tortilla chips.
*The adobo sauce comes from a can of chipotle peppers. From the same can you get the pepper to chop, just spoon out the required amount of liquid.