Enchilada Stuffed Mushrooms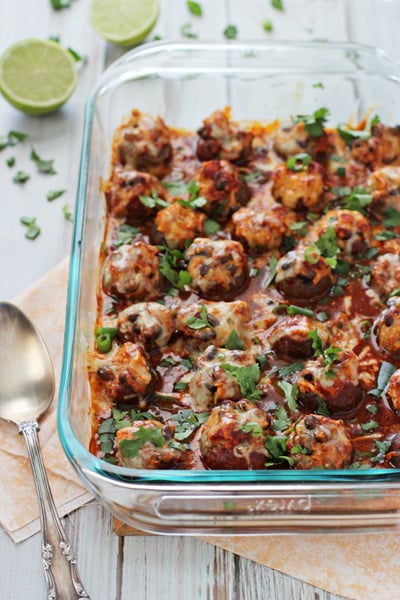 I made you something good.  As in I can't stop thinking about them good.  As in I made them over and over just to "test" the recipe one more time … even though that wasn't really necessary after a certain point.  But it gave me an excuse to eat them again so I rolled with it.  I think it's safe to say that we realllllly liked these.
Plus, little pop-able enchilada stuffed mushrooms are the perfect way to start this week off with a bang.  And we all need a little excitement on a Monday.  For sure.
So let's talk stuffed mushrooms.  These babies are versatile.  Need a fun appetizer?  Done.  Or an easy weeknight dinner to serve alongside a big salad and some crusty bread?  And done again.
Plus it's hard not to fall head over heels for these.  Juicy, tender mushrooms packed with chicken, black beans, plenty of cheese and spice.  Oh and they're smothered in enchilada sauce.  A little messy but the deliciousness makes up for that.  Promise.
Now, who wants to give me an excuse to make these again?   Any takers?
Yield: about 24 to 28 mushrooms
Enchilada Stuffed Mushrooms
Recipe for enchilada stuffed mushrooms. Tender mushrooms filled with chicken, beans, cheese and enchilada sauce. Perfect for an appetizer or main dish.
Ingredients:
2 (8 ounce) packages baby bella mushrooms
1 ½ cups enchilada sauce, divided
¾ cup shredded cooked chicken
½ cup cooked black beans*
¼ cup cream cheese, softened
1 chipotle pepper in adobo sauce, minced
¼ teaspoon cumin
¼ teaspoon smoked paprika
½ cup freshly grated cheddar cheese
¾ to 1 cup freshly grated pepper jack cheese
½ cup fresh cilantro, chopped
2 to 3 green onions, thinly sliced
lime wedges, optional
Directions:
Preheat the oven to 350 degrees.
Clean the mushrooms then gently pop out the stems (you can discard these). Set aside. Add ½ cup of the enchilada sauce to the bottom of a 9 by 13 inch baking dish. Tilt the pan back and forth so that the sauce evenly coats the bottom. Set aside.
In a medium bowl, add the chicken, black beans, cream cheese, chipotle, cumin, paprika, cheddar cheese and another ¼ cup of the enchilada sauce. Mix until well combined. Fill each mushroom cap with a good amount of the filling and then place the caps in the prepared baking dish in a single layer. Drizzle the remaining enchilada sauce evenly over the tops of the mushrooms. Top each mushroom with a little bit of the pepper jack cheese.
Bake for about 20 minutes, until the mushrooms are nice and hot and the cheese is melted and bubbly. Sprinkle with the cilantro and green onions then serve immediately. Serve with lime wedges, if desired.
*I used a little under ½ of a can of black beans (drained and rinsed) to get this amount.