Spiced Pita Chips with Whipped Herb Goat Cheese
I can't stop making homemade pita chips.  Over the last few months I have made them to go with everything.  And I do mean everything.  Soup?  Yup.  Salads?  Yes sir.  Just because?  Obviously.
So I figured why not make some for the blog and feed my obsession even more?  Clearly that was the correct choice.  Because I even topped my own expectations with this recipe right here.  I usually just brush my pita chips with some olive oil and call it a day but this time I decided to fancy them up a bit.  With my other current obsession – the combination of cumin and smoked paprika.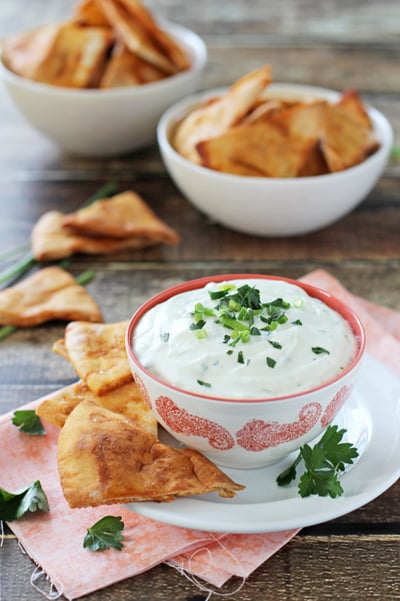 And oh my goodness gracious was that a good decision.  The end result is a slightly smoky yet not overpowering flavor that adds a little oomph to these crunchy awesome chips.  And then to make it even better I added goat cheese for dipping.  Which takes them to a whole different level.
Because did I mention that you are going to whip the goat cheese to make it creamy and fluffy – like a gorgeous goat cheese cloud?  And then add in some herbs for a little bit of freshness, which equals one pretty darn good appetizer (or snack … let's be real here).
So just try and stop yourself from sneaking to the kitchen to grab "just one bite."  It won't work, trust me.  So instead you can bring the rest to your friends to attempt to get it out of your own house but then proceed to eat even more.  Pita chips and goat cheese are a dangerous combination I tell you!
Spiced Pita Chips with Whipped Herb Goat Cheese
Recipe for spiced pita chips with whipped herb goat cheese. Homemade pita chips with cumin and smoked paprika, paired with a creamy, fluffy goat cheese dip.
Ingredients:
For the pita chips:
6 pita bread rounds
4 tablespoons olive oil
1 ½ teaspoons cumin
1 ½ teaspoons smoked paprika
pinch of cayenne
sea salt, for sprinkling
For the goat cheese:
11 ounces goat cheese
2 ounces mascarpone
1 tablespoon half and half
¼ teaspoon sea salt
1 tablespoon minced fresh chives
1 tablespoon minced fresh parsley
Directions:
To make the pita chips – preheat the oven to 400 degrees. Line two large baking sheets with parchment paper and set aside.
Cut each pita bread into wedges (I like to cut mine into 8 wedges each). Place the wedges in a single layer on the prepared baking sheets. In a small bowl, add the olive oil, cumin, paprika and cayenne. Whisk until well combined. Lightly brush some of this mixture onto both sides of the pita wedges and sprinkle both sides lightly with the sea salt.
Bake for 5 minutes, then flip the pita wedges over. Rotate the pans in the oven and then bake for an additional 4 to 5 minutes, until they are nice and crispy (watch them during the second half of baking to make sure they don't burn! It may take a slightly different time in your oven!).
To make the goat cheese – add the goat cheese, mascarpone, half and half and salt to the bowl of a food processor. Process until creamy and fluffy, about 45 seconds to 1 minute. Add in the chives and parsley and pulse a few times until incorporated.
Serve with the pita chips.
I like to use whole wheat pita bread to make these, but regular works great too!