Thai Chicken Bowls
If we're being honest, today I feel like I have nothing to say.  My husband is probably laughing and shaking his head as he's reading this, since he is of the belief that I ALWAYS have something to say.  I may be known to ramble on and on about silly things while he's trying to watch TV or do whatever he does, and he is usually happy when I return home from hanging out with friends since he thinks I'm talked out.  Ha!  Like that would ever happen.  Please now, who does he think I am?
But maybe it can happen?  Hmmm dare I say the husband could be right?  In this case I actually haven't talked much at all today but here I am staring at my computer screen and nothing.  Nada.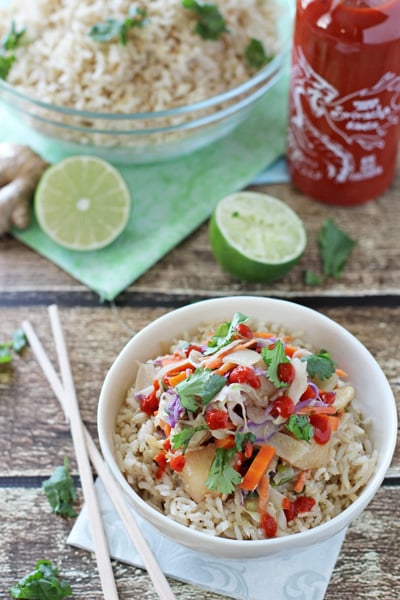 And we really enjoyed these thai chicken bowls so I can't even blame the chicken.  Instead I'll blame the dreary weather – it's dragging me down.  Making my concentration fly away.  So instead I've spent a large chunk of time being snoopy and watching people from the window in my office.  Because people watching is fascinating.
People watching while enjoying a leftover bowl of this meal right here is even better.  Like that transition today?  So smooth huh?
This is definitely a great weeknight meal right here.  So many layers of goodness in one dish.  Crispy veggies, sweet pineapple and chicken flavored up with peanut sauce (I prefer my homemade version but you could definitely use store-bought!) and then served on top of a bed of coconut rice, my favorite.  Throw in some cashews for even more crunch and finish it off with a bit of sriracha for some kick.
And … and … you can prep different parts of it ahead of time, which will make it even faster.  Make the coconut rice in the morning or the day before, cook the chicken breasts or even use a rotisserie chicken!
This really is a winner winner chicken dinner.  I know, I know, I used that phrase last week.  Do you see what I mean?  I got nothing.
Thai Chicken Bowls
Recipe for thai chicken bowls. Crispy veggies, sweet pineapple, chicken and peanut sauce served on top of coconut rice. A great weeknight meal!
Ingredients:
For the rice:*
1 ½ cups uncooked brown basmati rice
1 cup coconut milk
2 ¾ cups water
½ teaspoon salt
For the bowls:
1 tablespoon olive oil
1 onion, chopped
2 carrots, peeled and chopped
2 cloves garlic, minced
2 teaspoons freshly grated ginger
1 cup chopped pineapple
3 cups coleslaw mix or sliced cabbage
4 green onions, sliced
2 chicken breasts, cooked and shredded
⅓ cup cashews
½ cup peanut sauce
salt, to taste
chopped cilantro, for serving
sriracha, for serving
Directions:
To make the rice – add the rice, coconut milk, water and salt to a medium saucepan. Bring the mixture to a boil, give it a good stir, then cover and turn down the heat to medium-low / low. Let simmer for about 20 to 25 minutes, until the water is absorbed. Remove from the heat (leaving the cover on) and let stand for 10 minutes. Fluff with a fork.
To make the bowls – set a large skillet over medium heat. Add in the olive oil. When hot, add in the onion and carrots. Cook for about 5 minutes, until the veggies are crisp tender. Add in the garlic and ginger and cook for 30 seconds, until fragrant. Add in the pineapple chunks, cabbage and green onions. Cook for about 2 to 3 minutes, until the pineapple is warm and the cabbage is wilted down. Turn down the heat to low and add in the chicken, cashews and peanut sauce. Stir to combine. Season with salt to taste (I added about ½ to ¾ teaspoon – it will depend on how salty the peanut sauce is that you use).
To serve, spoon some of the rice into a bowl. Top with some of the vegetable chicken mixture. Garnish with cilantro and serve with sriracha if desired.
*The amount of liquid required and the cooking time for the rice will vary depending on brand. For the kind I buy, I use the amounts listed. If your package suggests something different, use the same amount of coconut milk listed above and then adjust the water. Additionally, keep an eye on it and adjust the cooking time as needed.
Regular white basmati rice also works if you can't find brown!
I had no intention of using a coleslaw mix for this recipe but the last few weeks at the grocery store I could not find a regular ol' cabbage! I planned to use sliced napa cabbage but had no luck buying any, so just use whatever you have!