Orange Chocolate Chip Bread with Brown Butter Glaze
I'm all about the citrus lately … in case that wasn't already blatantly obvious.  Which even surprises me, considering about two years ago I hated (like with a serious passion) any type of citrus in baked goods.  Sure, I have always loved fruit but in cookies or cake and the like?  I don't think so jack.  Clearly the times have changed.
So today I have for you an orange chocolate chip quick bread.  No mixer required.  Just some bowls, a whisk and a spatula.  And a quick bread means you can eat it for breakfast right?
That may have been the case if I didn't go right ahead and smother it in a brown butter glaze.  And oh goodness gracious this glaze.  I would just drizzle it straight into my mouth all the time if that wouldn't give my dentist a heart attack.
And I have the best dentist so I wouldn't want to do that.  So side story – the first time I went to this dentist after we moved here they were asking all about me and what I did and I mentioned this blog.  It has become a huge conversation topic during each visit and a few weeks ago while I was having two old cavities replaced I mentioned the lemon poppy seed cupcakes.  Within seconds, some of the other staff materialized in the room and wanted to know why I didn't bring any for them to sample.  It was pretty entertaining.  But really, is it a good idea to bring cupcakes to your dentist??  That are made of lots of sugar??
Anyway, my husband went in for his check-up a week later and all they wanted to talk about was the cupcakes.  Ha!  Who's more popular?  This girl, that's for sure.  Why I care that my dentist likes me more than my husband I don't know.  Let's just go with it.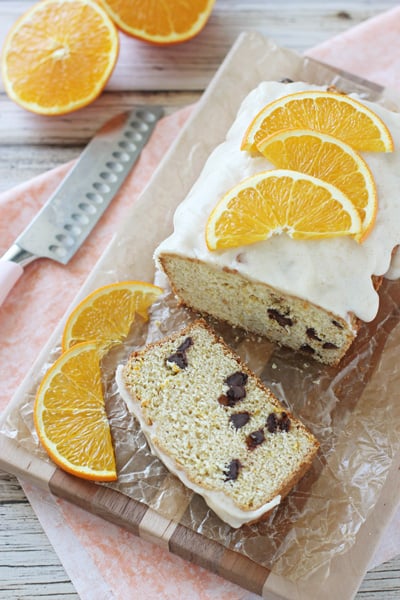 So make a loaf of this bread for yourself or maybe for Easter brunch, yes?  And if you find yourself licking some of the glaze with a spoon just let it happen (but don't tell your dentist it was my idea).
Yield: 1 (8 ½ by 4 ½ inch) loaf
Orange Chocolate Chip Bread with Brown Butter Glaze
Recipe for orange chocolate chip bread with brown butter glaze. A quick bread with no mixer required. Filled with orange, chocolate and drizzled with glaze.
Ingredients:
For the bread:
2 cups all-purpose flour
2 teaspoons baking powder
½ teaspoon salt
½ cup packed light brown sugar
¼ cup granulated sugar
1 large egg
1 teaspoon vanilla extract
½ cup melted coconut oil
⅔ cup whole milk
2 tablespoons orange zest
¾ cup semi-sweet or dark chocolate chips
For the glaze:
4 tablespoons unsalted butter, cut into chunks
1 cup confectioners' sugar
about 2 to 3 tablespoons whole milk, room temperature
¼ teaspoon vanilla extract
pinch of salt
Directions:
Preheat the oven to 350 degrees. Spray an 8 ½ by 4 ½ inch loaf pan with nonstick cooking spray and set aside.
To make the bread – in a large bowl, whisk together the flour, baking powder and salt. In a medium bowl, whisk together the brown sugar, granulated sugar and egg until well combined (it will clump together at first but just keep whisking and it will smooth out). Add in the vanilla, coconut oil, milk and orange zest and whisk again to combine. Pour the wet ingredients into the dry and mix until just combined. Gently fold in the chocolate chips. Do not over mix.
Transfer the batter into the prepared pan and use a spatula to smooth the top. Bake for about 50 to 55 minutes, until a tester inserted into the middle of the bread comes out clean. If the top starts to brown too quickly, tent loosely with aluminum foil. Once the bread is cool enough to handle, gently run a butter knife around the edges of the pan to loosen. Remove to a wire rack to cool completely.
To make the glaze – add the butter chunks to a small skillet. Let the butter melt over medium heat and then continue to cook, whisking frequently, until it begins to brown (this takes several minutes). You should see brown bits on the bottom of the pan. Once you see those bits, turn off the heat and continue to whisk constantly for about 30 seconds, until the butter is golden brown. Be careful not to burn the butter – those bits can turn black quickly.
Transfer the browned butter to a small bowl (make sure you get all those caramel bits in the pan!). Let cool for about 10 to 15 minutes. Add in the confectioners' sugar, milk, vanilla extract and salt and whisk to combine. Add more milk or confectioners' sugar to achieve the consistency that you want. Pour the glaze over the completely cooled cake. Let set before slicing to serve.
Make sure that you melt the coconut oil first and then measure out the correct amount (otherwise you may use too much). Alternatively, you can also substitute in canola or vegetable oil – they should both work fine here.
If you only have a 9×5 inch loaf pan, you can go ahead and use it. However, be sure to check the loaf while baking about 5 minutes earlier than noted in the recipe above.