Baked Tortilla Crusted Chicken Tenders with Mango Salsa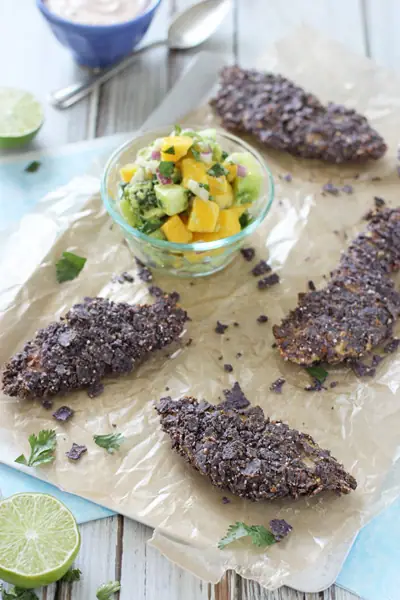 And a smoky chipotle dipping sauce.  Because once again that full title would have been far far too long.  And ridiculous.  But it's all here in this tasty tasty meal.
But before we talk about these chicken tenders, let's first chat about what I have planned for you over the next few weeks.  So last year I inadvertently posted a whole bunch of mexican-type meals in the run up to Cinco de Mayo.  The timing worked out as I just happened to be on a mexican kick (although really when am I not?).  But this year … oh yes, you better believe it was planned.  I have all mexican inspired dishes for you over the next two weeks.  Yes, two weeks worth of probably my favorite type of food.  It's gonna be good.
So get your yoga pants on, grab a margarita and let's get ready to eat.
First up, we have these super simple chicken tenders that are coated in crushed blue corn tortilla chips.  Now obviously you don't have to use blue corn – use whatever tortilla chips you prefer.  I just happen to have a thing for blue chips.  What can I say.  I love them.
The chicken is baked and not fried, comes out perfectly crispy and is just plain fun.  Well I think so all coated in blue.  Plus there's a creamy greek yogurt dipping sauce to go along with it and we all know that dipping chicken tenders is essential.
But if chicken tenders aren't your thing, pretty please still make the mango salsa.  It may be my favorite part of this meal.  Mango (my favorite), fresh crisp cucumber, creamy avocado and plenty of cilantro in a super awesome salsa that I just ate straight from the bowl with a spoon.  It's also good with a big bowl of chips.  Chips and salsa = my total weakness.
A healthy meal that tastes kind of naughty?  I'm all over it.
And check back later this week for more mexican goodness – we're just getting this party started.
Yield: about 3 to 4 servings
Baked Tortilla Crusted Chicken Tenders with Mango Salsa
Recipe for baked tortilla crusted chicken tenders with mango salsa. Crispy yet healthy chicken tenders, a smoky chipotle dipping sauce and a fresh salsa.
Ingredients:
For the chicken:
½ cup cornmeal
¼ teaspoon salt
⅛ teaspoon pepper
1 large egg
1 tablespoon milk
2 cups finely crushed blue corn tortilla chips
2 large boneless skinless chicken breasts (about 1 pound), cut into 1-inch thick strips
For the sauce:
½ cup plain greek yogurt
1 ½ teaspoons milk
1 teaspoon minced chipotle in adobo sauce
¾ teaspoon adobo sauce
¼ teaspoon salt
pinch of garlic powder
For the salsa:
1 mango, chopped
1 small cucumber, peeled and chopped
1 avocado, diced
¼ cup diced red onion
⅓ cup cilantro, chopped
juice of 1 lime
¼ teaspoon salt
Directions:
To make the chicken – preheat the oven to 400 degrees. Line a rimmed baking sheet with foil and then set a cooling rack inside the baking sheet. Spray with nonstick cooking spray and set aside.
Add the cornmeal, salt and pepper to a shallow dish and mix to combine. In a small bowl, add the egg and milk; beat with a fork until well combined. Add the crushed tortillas to another shallow dish. Working one at a time, dredge each chicken strip in the cornmeal mixture, then dip into the egg mixture to coat and finally in the crushed tortillas (pressing them into the chicken on both sides). Place on the prepared cooling rack in the baking sheet. Once all the strips are on the baking sheet, mist the tops lightly with nonstick spray.
Bake for 10 minutes, then carefully flip the chicken strips over and bake for about another 10 minutes, until the chicken is cooked through and the coating is nice and crispy.
To make the sauce – add the greek yogurt, milk, minced chipotle, adobo sauce, salt and garlic powder to a small bowl. Whisk until smooth.
To make the salsa – add the mango, cucumber, avocado, red onion, cilantro, lime juice and salt to a medium bowl. Toss to combine.
Serve the chicken strips with the dipping sauce and salsa on the side.
Alternatively, you can buy boneless skinless chicken tenders, which will save you the step of cutting the chicken breasts.
The adobo sauce comes from a can of chipotle peppers. From the same can you get the chipotle peppers to mince, just spoon out the required amount of liquid.
The dipping sauce does have a bit of a kick, so reduce the chipotle depending on your taste.