Crockpot Chocolate Stout Pulled Pork
This amazing crockpot chocolate stout pulled pork is a family favorite! Tender and juicy, it's a super easy meal – let your slow cooker do all the work for this flavorful dish.
Let me introduce you to my new favorite way to make pulled pork.
I kinda sorta want to just reach into my screen and grab a bite – good thing I still have a batch in the freezer ready to go. I feel a pulled pork emergency coming on.
So we all know that pulled pork in the crockpot is super easy and pretty hard to go wrong with … but when we add in my favorite combo of spices (no I won't say the names because if you've been reading this blog for any amount of time you already know what I'm going to say) and some chocolate stout?
It's magical. Magical, juicy, super flavorful pulled pork bliss.
I know, I can be a little over the top sometimes but you are just going to have to trust me on the chocolate stout.
And if you're not a big beer person no need to worry your pretty little head off. This does not taste like beer.
I find it more just brings out all sorts of flavor – which combined with super tender juiciness is one winning combination.
The first time I made this the husband and I just stood next to the crockpot grabbing spoonfuls and fighting each other to get the next bite as soon as possible. Welcome to my life.
So how should you serve this, you ask?
The sky's the limit friends. You can go traditional with some coleslaw on a bun. You can spoon some on top of a salad. Or as an add-in to another meal, like a pasta dish. Tacos anyone?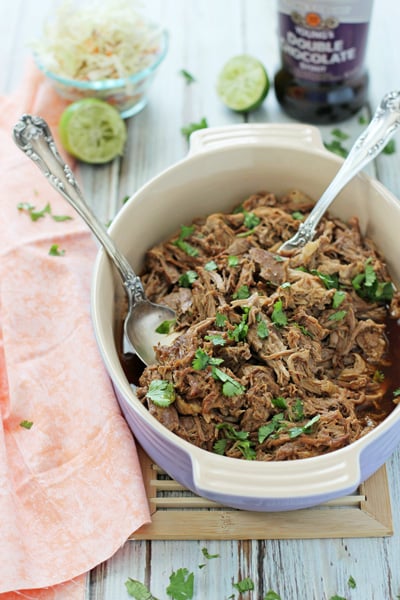 Additional Crockpot Recipes You Might Enjoy!
Did you make this recipe? Rate and review it down below! I'd love to hear from you.
Ingredients
2 teaspoons cumin
2 teaspoons smoked paprika
1 teaspoon chili powder
½ teaspoon garlic powder
2 teaspoons salt
½ teaspoon cayenne
about 4 pounds boneless pork butt
2 cups chocolate stout
1 tablespoon worcestershire sauce
juice of 1 lime
Instructions
In a small bowl, whisk together the cumin, paprika, chili powder, garlic powder, salt and cayenne.
Season the pork butt all over with this mixture and then place in a crockpot. Pour in the stout, worcestershire and lime juice.
Cover and cook on low for about 12 hours, until the pork is really tender.
Shred (I prefer to do this on a cutting board), toss the meat in the juices in the crockpot and serve however you would like.
Nutrition Information:
Yield:

14
Serving Size:

1
Amount Per Serving:
Calories:

496
Total Fat:

32g
Saturated Fat:

13g
Trans Fat:

0g
Unsaturated Fat:

15g
Cholesterol:

117mg
Sodium:

427mg
Carbohydrates:

16g
Fiber:

1g
Sugar:

13g
Protein:

32g
Nutrition data shown is an estimate provided by an online calculator and is for informational purposes only. It should not be considered a substitute for a medical professional's advice.