Lemon Raspberry Poppy Seed Cookie Cups
Perfectly chewy lemon raspberry poppy seed cookie cups! With a lemon poppy seed cookie base and filled with fresh raspberry buttercream frosting! Perfect for parties!
Today is a special day.
Why you ask? Because we're celebrating a surprise baby shower for Georgia from The Comfort of Cooking! Georgia is super sweet and I've really enjoyed getting to "know" her over the last year or so. Virtual internet friend style.
And she's about to welcome a little baby girl!
What better way to celebrate than with some fun cookie cups that are perfectly pink (and of course perfect for spring).
PS – check out all the other recipes from the baby shower down below the recipe!
I used my favorite cookie base, spiked it with lemon zest and poppy seeds and baked it in a regular muffin tin. And then filled each cup to the brim with a gorgeous pink raspberry frosting. Made from 100% fresh raspberries.
Deliciously decadent and so fun for a baby shower – whether it be virtual or in person : )
And since this baby shower isn't actually in person, I was left with quite a bit of cookie cups hanging out in the house. Which is bad news.
So what's a girl to do? Wander around to all her neighbor's houses asking if they want free baked goods. I think my neighbors might think I'm a little strange.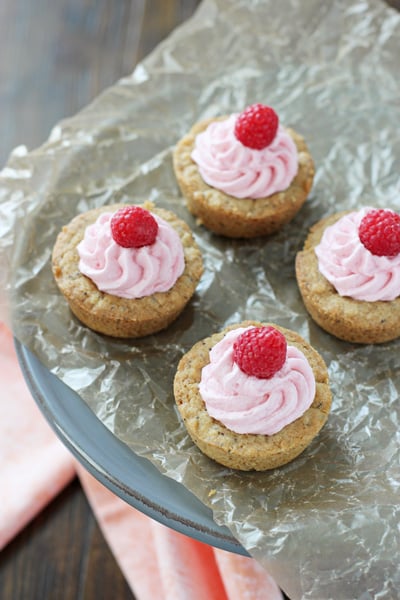 Did you make this recipe? Rate and review it down below! I'd love to hear from you.
Ingredients
For the cookie cups:
2 ¼ cups all-purpose flour
1 teaspoon baking soda
¾ teaspoon salt
1 ½ tablespoons poppy seeds
1 cup (2 sticks) unsalted butter, room temperature
¾ cup packed light brown sugar
½ cup granulated sugar
1 large egg
1 large egg yolk
1 ½ teaspoons vanilla extract
¼ teaspoon almond extract
1 tablespoon lemon zest
For the frosting:
6 ounces fresh raspberries
1 cup (2 sticks) unsalted butter, room temperature
4 cups confectioners' sugar, sifted
¼ teaspoon salt
1 teaspoon vanilla extract
For garnish:
Instructions
To make the cookie cups:
Preheat the oven to 350ºF. Generously spray two muffin tins with nonstick cooking spray and set aside.
In a medium bowl, whisk together the flour, baking soda, salt and poppy seeds. Set aside.
In the bowl of a stand mixer fitted with the paddle attachment, add the butter, brown sugar and granulated sugar. Beat on medium speed until creamy, about 1 minute. Add in the egg and egg yolk and beat until combined. Add in the vanilla extract, almond extract and zest. Beat until combined. With the mixer on low speed, slowly add in the flour mixture and beat until just combined.
Scoop about 2 to 2 ½ tablespoons of the dough into each muffin tin. Gently press the dough into the tin, so it covers the bottom and goes up the sides a little.
Bake for about 10 to 12 minutes, until light golden brown. If needed, once you remove the pans from the oven, take a small spoon and gently press down a little in the center of each cup, so the frosting will have a place to sit.
The centers will still likely be a little gooey and will sink a little on their own as they cool. Take a butter knife and gently run it around the edge of each cup (so they pop out easier later). Transfer the pans to a wire rack and allow to cool completely before removing the cookie cups.
To make the frosting:
Add the raspberries to the bowl of a food processor. Process until smooth. Strain through a fine mesh sieve to remove the seeds, using a wooden spoon to help push it through. Measure out ¼ cup of the strained puree and set aside (any extra you can discard).
Add the butter to the bowl of a stand mixer fitted with the paddle attachment. Beat on medium speed for about 2 minutes, until light and fluffy. With the mixer on low, slowly add in the confectioners' sugar. Once incorporated, increase the speed to medium and beat until well combined. Add in the salt, vanilla, and the ¼ cup of the raspberry puree. Beat on low speed until incorporated and then increase the speed to high and beat for about 2 to 3 minutes, until fluffy.
Pipe some of the frosting into the center of each cookie cup. Garnish with a fresh raspberry.
Nutrition Information:
Yield: 18 Serving Size: 1

Amount Per Serving:

Calories: 381 Total Fat: 22g Saturated Fat: 13g Trans Fat: 0g Unsaturated Fat: 8g Cholesterol: 85mg Sodium: 202mg Carbohydrates: 45g Fiber: 1g Sugar: 31g Protein: 3g

Nutrition data shown is an estimate provided by an online calculator and is for informational purposes only. It should not be considered a substitute for a medical professional's advice.

Be sure to check out all the other fun goodies that were made in honor of the mommy-to-be! Congratulations Georgia!! So excited for you!