Roasted Strawberry, Brie and Arugula Quesadillas
Sweet and salty, these roasted strawberry, brie and arugula quesadillas are irresistible. With jammy berries, gooey brie and fresh peppery arugula.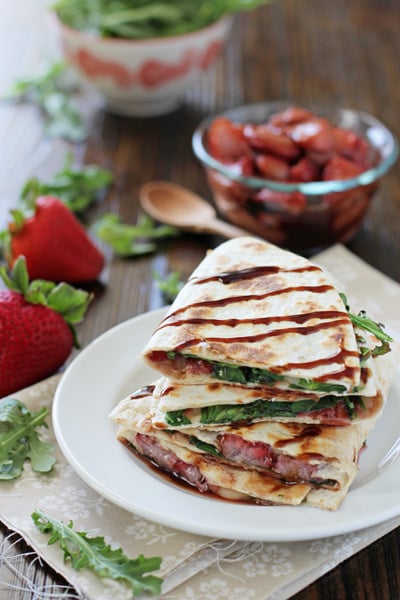 Cheesy. Easy. Summery. That's exactly what these roasted strawberry, brie and arugula quesadillas bring to the table.
I made these after I decided I needed to find a more acceptable way to consume brie.
I know I'm late to the party, but I finally made that appetizer where you stick a wheel of brie inside of puff pastry, top it with some jam (homemade strawberry jam to be exact – so good), and then fold it up and bake. And Oh. My. Good. Grief.
The entire thing was consumed ridiculously fast. Faster than I should probably admit. I certainly contributed to the stuff your face as quickly as possible because this is so good part.
Don't worry – I didn't do this alone in my kitchen (that would be weird). There were other people. Totally fine.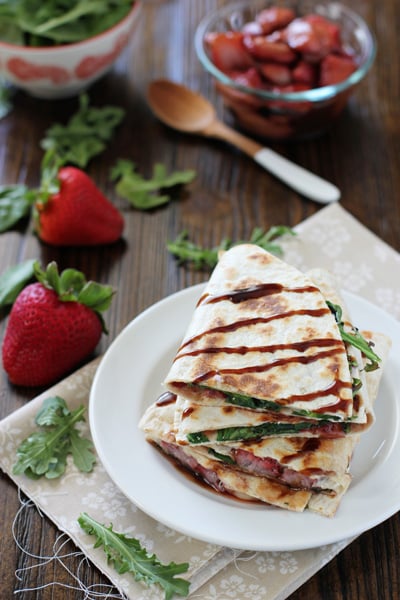 But anyway, I made a mental note (as I was still eating it of course) that I needed it again soon. But really, I clearly do not need to eat cheesy puff pastry on a regular basis.
And that's where these quesadillas came in.
There's arugula. And whole wheat tortillas instead of the buttery puff pastry. So that makes it cool to eat them all summer, right? That's what I'm telling myself at least.
Roasted strawberries with a touch of balsamic vinegar. Fresh spicy arugula. Brie (duh).
All folded up in a hot quesadilla finished off with a drizzle of balsamic glaze (can't get enough). What's not to love?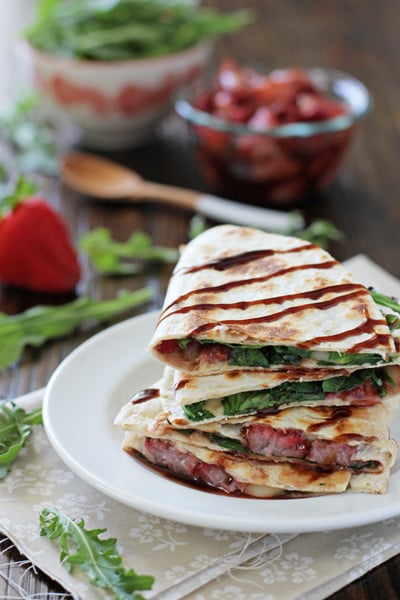 Additional Quesadilla Recipes You Might Enjoy!
Did you make this recipe? Rate and review it down below! I'd love to hear from you.
Ingredients
For the strawberries:
16 ounces strawberries, hulled and cut in half (quartered if really large)
1 tablespoon maple syrup
1 tablespoon honey
1 tablespoon balsamic vinegar
½ tablespoon olive oil
pinch of sea salt
For the quesadillas:
3 large whole wheat tortillas
about 3 ounces brie, rind removed and sliced
1 to 1 ½ cups baby arugula
balsamic glaze, for drizzling
Instructions
For the strawberries:
Preheat the oven to 375ºF.
Place the strawberries on a rimmed baking sheet or dish. Drizzle with the maple syrup, honey, balsamic and olive oil. Sprinkle with the salt. Toss to combine and spread in an even layer.
Bake for about 25 to 30 minutes, gently stirring once halfway through, until the strawberries have released most of their juices and are nice and tender. Let cool slightly.
For the quesadillas:
Place the tortillas on a work surface. Place some of the brie slices on half of each tortilla. Top each with some of the roasted strawberries and then the arugula. Fold the empty half of the tortilla over the filling to form a semicircle.
Set a skillet over medium / medium-high heat. When hot, spray lightly with nonstick cooking spray. Place an assembled quesadilla in the pan and cook, flipping once halfway through, until both sides are browned and the cheese is melted.
Cut into triangles and serve with a drizzle of balsamic glaze.
Notes
The amounts listed in the recipe are what I used to make 3 good-sized quesadillas. Depending on how full you like to stuff your quesadillas, you may be able to get more than 3 (or not!).
Nutrition Information:
Yield:

6
Serving Size:

1
Amount Per Serving:
Calories:

184
Total Fat:

7g
Saturated Fat:

3g
Trans Fat:

0g
Unsaturated Fat:

4g
Cholesterol:

14mg
Sodium:

209mg
Carbohydrates:

25g
Fiber:

2g
Sugar:

9g
Protein:

6g
Nutrition data shown is an estimate provided by an online calculator and is for informational purposes only. It should not be considered a substitute for a medical professional's advice.