Chocolate Cherry Coconut Milk Ice Cream
Dreamy chocolate cherry coconut milk ice cream! Filled with roasted fresh cherries and studded with dark chocolate, you won't even know it's dairy free!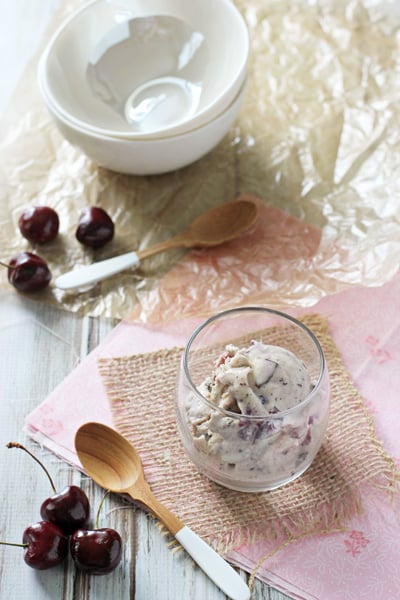 Ice cream! One of my favorite treats of summer. Well, really I eat ice cream all year round but during the summer it's even better.
On a related note, my obsession with all things coconut milk is going strong.
And while I still love regular ice cream (like really love it), I thought it would be fun to play around with coconut milk ice cream. Just because.
The result? I should have done this years ago.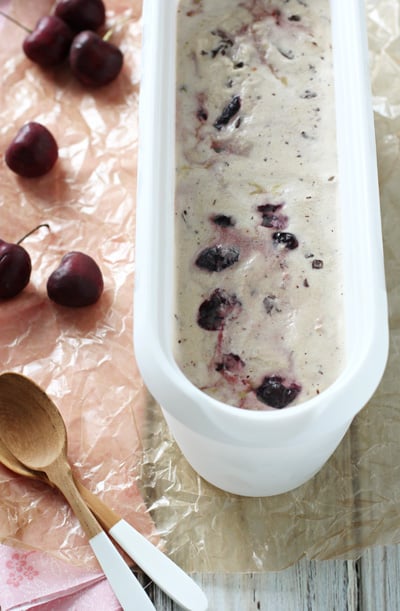 At first I was planning to just go basic … a simple vanilla bean flavor.
So I did that but then couldn't help myself from getting fancy with some add-ins.
Like roasted cherries. And dark chocolate. Sooooo good. It's creamy, yet has a bit of texture from the mix-ins, which is exactly the balance that I love.
Kinda like a cherry garcia but better. Because the cherries are roasted. Roasted!
And let me tell you that I need all the delicious frozen treats I can get right now to cool off. It's been so so hot. All the heat is going to my head. I'm losing it. My marbles that is. Or really just not thinking completely straight.
Case in point. I made and decided to photograph ice cream on probably the most humid day of the year so far.
And then freaked out when I realized that it was melting incredibly fast but I hadn't gotten the perfect shot yet and omg it's dripping all over the place and not holding the nice scooped shape and shoot now it's on my hands and arms and everything is sticky including my camera.
Womp womp.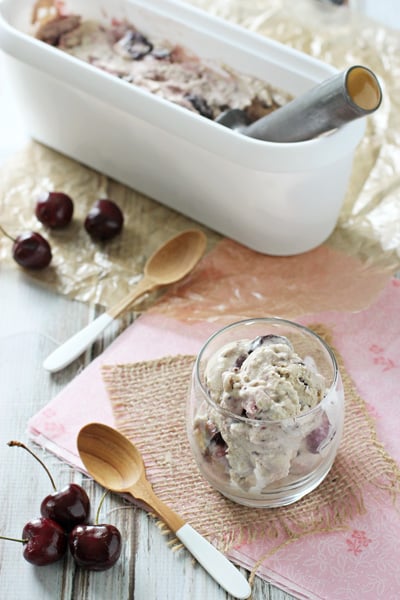 Additional Dairy Free Frozen Treats You Might Enjoy!
Did you make this recipe? Rate and review it down below! I'd love to hear from you.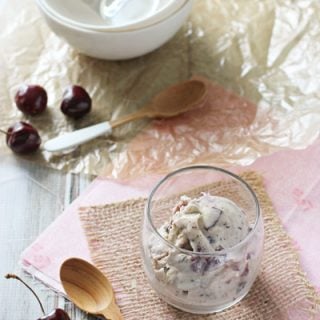 Chocolate Cherry Coconut Milk Ice Cream
Dreamy chocolate cherry coconut milk ice cream! Filled with roasted fresh cherries and studded with dark chocolate, you won't even know it's dairy free!
Ingredients
For the cherries:
2 cups fresh pitted cherries
1 tablespoon honey
1 tablespoon maple syrup
1 tablespoon olive oil
pinch of salt
For the ice cream:
2 (13.5 ounce) cans full-fat coconut milk
½ cup coconut sugar
1 vanilla bean
1 teaspoon vanilla extract
pinch of salt
½ cup dairy free dark chocolate chips
Instructions
To make the cherries:
Preheat the oven to 375ºF.
Add the cherries to a rimmed baking sheet or dish. Drizzle with the honey, maple syrup and olive oil. Sprinkle with the salt. Toss to combine and spread in an even layer.
Bake for about 30 minutes, gently stirring once halfway through, until the cherries have released most of their juices and are nice and tender.
Let cool completely then store in the refrigerator (you want it to be thoroughly chilled before using in the ice cream).
To make the ice cream:
Meanwhile, add the coconut milk and sugar to a medium saucepan. Split the vanilla bean lengthwise and scrape out the seeds. Add both the seeds and the pod to the saucepan.
Set the pan over medium heat and cook, stirring frequently, until the sugar has dissolved and the coconut milk is smooth. Remove from the heat and add in the vanilla extract and salt.
Pour the mixture into a large bowl and let cool completely. Cover and refrigerate for several hours until well chilled (I let it chill for 8 hours or more).
Once chilled, remove the vanilla bean pod from the mixture.
Freeze the mixture in an ice cream maker according to the manufacturer's directions.
After the mixture is finished churning, gently fold in the chopped chocolate. Transfer some of the mixture to the container you are going to store it in and then layer on some of the roasted cherries (just drop in spoonfuls over the top). Repeat this process until you have filled the container. Freeze until firm.
Notes
You can use regular granulated sugar instead of the coconut sugar.
Coconut milk ice cream base adapted from A Couple Cooks
Nutrition Information:
Yield:

8
Serving Size:

1
Amount Per Serving:
Calories:

208
Total Fat:

11g
Saturated Fat:

8g
Trans Fat:

0g
Unsaturated Fat:

3g
Cholesterol:

0mg
Sodium:

5mg
Carbohydrates:

29g
Fiber:

1g
Sugar:

26g
Protein:

1g
Nutrition data shown is an estimate provided by an online calculator and is for informational purposes only. It should not be considered a substitute for a medical professional's advice.