Grilled Balsamic Chicken with Peach Salsa and Chipotle Bread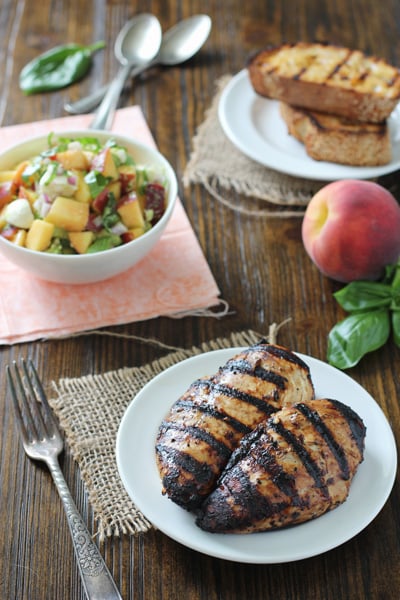 This meal. It makes me just want to cry out with happiness. Shout it from the rooftops.
Seriously, it's one of our new absolute favorite summer dinners that has gone into heavy heavy rotation. Easy, fast and proof that the husband and I make up one lean mean grilling machine … errr team? I prep, he grills and then we stuff our face with delicious food. Makes me happy.
Added bonus when summery boozy beverages are involved.
So the hardest part about this recipe is remembering to build in a little time to let the chicken marinate before throwing it on the grill. I usually only let it sit for about 30 to 45 minutes, but feel free to go longer. I just never seem to remember to plan any further ahead despite sending multiple emails to myself. Yes, in addition to writing out post-it notes and having a planner that I swear by, I also email myself reminders. I can be weird.
But let's get back to the chicken. You'll throw together a simple marinade with balsamic vinegar and other classic things. Then let the chicken sit and do its thing and get jazzy.
You'll also quickly mix up a chipotle butter to slather on those thick crusty pieces of bread, which will later get grilled and charred to perfection. Perfection!
And finally, you'll pull together a simple peach (yay for summer peaches!), mozzarella and avocado salsa. So simple yet so good that you'll sneak bites with a spoon while waiting for everything else to grill.
Just try to restrain yourself or you'll realize that you ate half the bowl before sitting down to eat.
Whoops.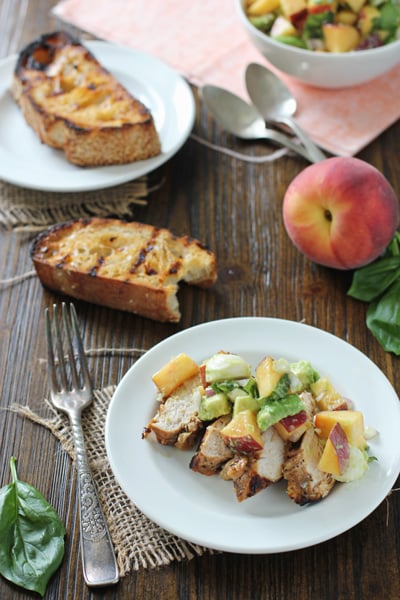 Additional Grilling Recipes You Might Enjoy!
Did you make this recipe? Rate and review it down below! I'd love to hear from you.
Grilled Balsamic Chicken with Peach Salsa and Chipotle Bread
Recipe for grilled balsamic chicken. Simple marinated chicken topped with a fresh peach and avocado salsa and served with chipotle buttery bread.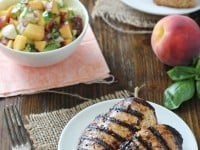 Ingredients:
For the chicken:
¼ cup olive oil
2 tablespoons balsamic vinegar
2 cloves garlic, minced
½ teaspoon dried basil
½ teaspoon salt
pinch of pepper
2 large boneless skinless chicken breasts
For the bread:
3 tablespoons unsalted butter, softened
about 1 teaspoon minced chipotle in adobo sauce
pinch of salt
pinch of pepper
4 thick slices (1-inch) your favorite crusty bread
For the salsa:
2 medium peaches, chopped
1 avocado, diced
1 cup mozzarella balls, patted dry and halved or quartered
2 to 4 tablespoons minced red onion (to taste)
1 tablespoon olive oil
1 to 2 tablespoons minced fresh basil
¼ to ½ teaspoon salt
Directions:
To make the chicken – add the olive oil, balsamic vinegar, garlic, basil, salt and pepper to a large ziplock plastic bag. Seal and mix it up to combine. Add in the chicken breasts, seal it back up and sort of massage it to coat. Refrigerate for 30 to 45 minutes.
To make the bread – in a small bowl, add the butter, chipotle, salt and pepper. Mix until combined. Spread a thin layer of the butter on both sides of the bread slices. Set aside.
To make the salsa – add the peaches, avocado, mozzarella, red onion, olive oil, basil and salt to a medium bowl. Toss to combine and set aside.
Light up a grill (charcoal or gas) over medium high heat. When the chicken is done marinating and the grill is heated, place the chicken breasts on the grill and cook until the internal temperature registers 165 degrees and it is browned on the outside. Remove from the grill and allow to rest for about 10 minutes. While the chicken is resting, add the bread slices to the grill. Cook until the bread is golden brown and charred slightly, about 1 ½ to 4 minutes, flipping once halfway through (it will depend on the bread you are using how quickly it chars).
Spoon some of the salsa over the chicken (you can slice it first). Serve with the bread on the side.