Peach and Prosciutto Salad with Honey Mustard Vinaigrette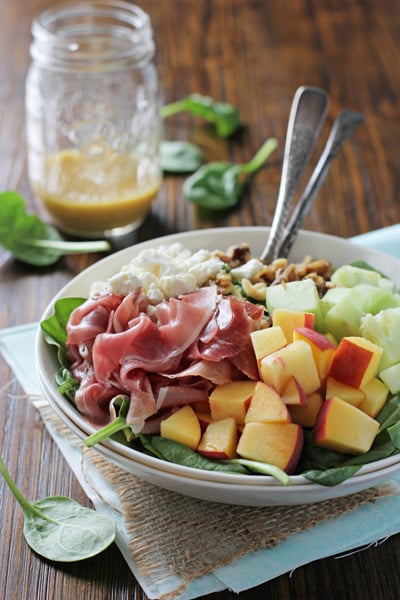 So let me tell you about how obnoxious I was as a teenager. And let me preface this with the fact that I cared a lot about my grades … total nerd and totally fine with it. But anyway, I would be home studying and my poor parents would just be trying to watch television and I would come downstairs or into the room and huff and puff and tell them to turn down the volume or better yet turn it off completely because oh-my-gosh-i-need-to-study-and-you-are-so-interrupting-me-and-don't-you-want-me-to-get-good-grades? And then I would stalk off and probably slam a door. Naturally.
Flash forward a whole lotta years and now I am totally that person who blasts music while working and editing photos and cooking and the like. Silence is not necessary. I'm sure my husband 100% appreciates this when he's home on the weekends. And is trying to do his own thing. And you can also add some loud (and horrible) singing into the mix.
I have a feeling I have a bunch of karma coming my way one day when we have kids. Payback time. For sure.
But, at least these days I make up for it by providing lots of delicious meals for the husband to enjoy. Back in my high school years the only making up for my behavior was the good grades. I guess that's something?
I made this salad for a quick lunch one weekend after a fantastic morning filled with lots of music and singing. And it has turned into a favorite. The salad. Not my singing – that will never be anyone's favorite. It's just awful. Plain and simple.
But there is nothing awful about this peach and prosciutto salad. The combination of crunchy veggies and nuts, salty prosciutto and sweet amazing fresh peaches is just perfect. And then you'll also bring a light honey mustard vinaigrette to the party. Easy, quick and perfect for summer. Whether it be for lunch or even a really simple dinner with some crusty bread.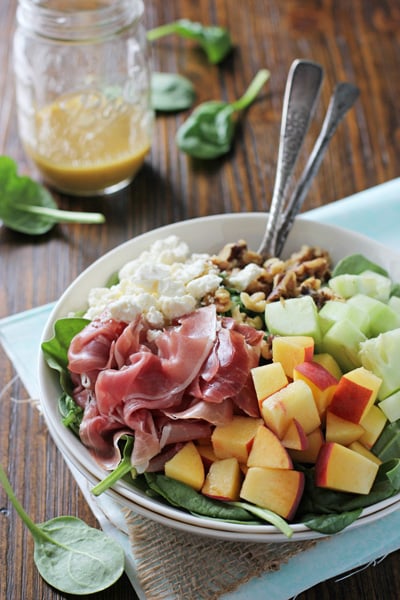 Or to make up for obnoxious behavior. I'm thinking maybe my parents are due for a salad. Better late than never?
Peach and Prosciutto Salad with Honey Mustard Vinaigrette
Recipe for peach and prosciutto salad with a lighter honey mustard vinaigrette. With salty prosciutto and feta, crunchy walnuts and sweet fresh peaches.
Ingredients:
For the salad:
6 to 8 ounces mixed greens or baby spinach
2 medium peaches, chopped
1 cucumber, peeled and chopped
2 to 4 ounces prosciutto, chopped or torn into pieces
½ to ¾ cup crumbled feta
¾ cup raw walnuts, roughly chopped
For the dressing:
1 tablespoon dijon mustard
1 tablespoon honey
1 tablespoon apple cider vinegar
¼ teaspoon salt
freshly ground pepper, to taste
¼ cup olive oil
Directions:
Add the salad greens to a large bowl. Add in the peaches, cucumber, prosciutto, feta and walnuts.
To make the dressing – add the mustard, honey, vinegar, salt, pepper and olive oil to a small bowl. Whisk vigorously until smooth.
Pour the desired amount of dressing into the bowl with greens and toss until well combined. Serve immediately.
I feel like salads are kind of like sandwiches – adjust the salad topping quantities to the amounts that you like!