Blueberry Basil Ricotta Flatbreads
Let's chat about a ridiculously easy dinner. We're talking done in under 30 minutes. Barely any chopping or prep involved. Slap a few toppings on some naan bread and badda bing badda boom dinner is done.
But! Despite the simplicity, the blueberry basil ricotta combo will make you feel like you actually spent a bunch of time putting together a fancy dinner. Well, if pizza or flatbread could be considered fancy.
Who are we kidding, I absolutely consider flatbread fancy when it involves toppings like this.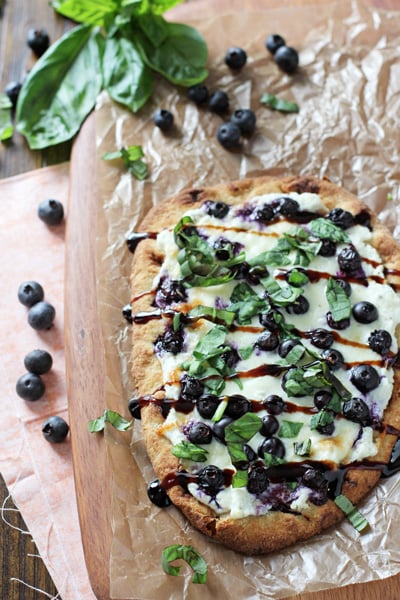 And goodness knows I need all the simple, feels-kinda-fancy dinners I can get these days.
Life is big time crazy at the moment. My parents were in town for a visit last week. My in-laws are currently here for a visit. We've been trying to entertain them during their time here and I've been getting up ridiculously early, frantically trying to squeeze in some work, meet deadlines and get a million other things done. Half of which doesn't end up happening because there is no such thing as alone time when people are staying at your house. Even when you try to hide. Kidding kidding, I don't hide! Maybe…
Plus, you can also throw in one crazy little beagle who is so excited to see all her "grandparents." This is due to the fact that they all have been known to just happen to accidentally drop food on the floor when I look the other way. Suspicious? I think so.
The moral of this story? Blueberry basil ricotta flatbreads = fancy feeling bites of goodness that will make you stop running around like a crazy person for at least a few minutes.
Plus, you get to drizzle on some balsamic glaze. Which is just pure gorgeousness.
Yield: about 4 to 6 servings
Blueberry Basil Ricotta Flatbreads
Recipe for blueberry basil ricotta flatbreads. Make this simple dinner in under 30 minutes. With fresh blueberries, basil, cheese and naan bread.
Ingredients:
4 pieces whole wheat naan
1 teaspoon olive oil, plus more for brushing
1 cup ricotta cheese
¼ teaspoon salt
pinch of pepper
¼ teaspoon dried basil
1 cup shredded mozzarella cheese
1 cup fresh blueberries
1 cup lightly packed arugula or baby spinach, roughly chopped
4 to 5 fresh basil leaves, roughly chopped
balsamic glaze, for drizzling
Directions:
Preheat the oven to 425ºF.
Line two large baking sheets with parchment paper. Set two pieces of the naan on each sheet. Lightly brush each piece with some olive oil.
In a small bowl, mix together the 1 teaspoon olive oil, ricotta, salt, pepper and dried basil until well combined. Divide the ricotta evenly among the four pieces of naan and spread (leaving a border around the edges). Top each piece with some of the mozzarella and then the blueberries.
Bake for about 10 to 13 minutes, until the crust is golden and the cheese is nice and melted, rotating the pans once during baking. Remove from the oven and top with the arugula and fresh basil. Drizzle with the balsamic glaze. Slice and serve.