Baked Turkey Meatballs with Polenta Cakes
Healthy baked turkey meatballs served over crispy polenta cakes and with a quick homemade tomato sauce!
Meatballs! Meatballs! Now imagine me saying that like my very Italian grandmother.
I pretty much always say it that way (you know all accent-like and making crazy hand gestures) and completely crack myself up every time.
Is it weird to find yourself hysterical? Don't answer that.
Besides, it's just fun to say it that way, so you know. It has to be done.
And while these little guys may not be exactly like the meatballs my grandma always makes, they are pretty darn delicious if I do say so myself.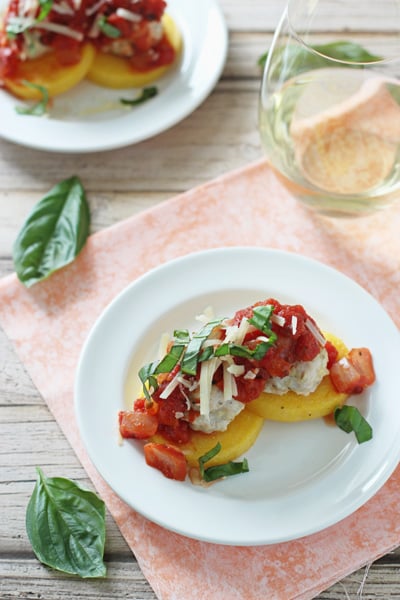 Added bonus? There's polenta involved. And we all know I am a polenta junkie. Although I feel like I've been cheating on polenta with lentils. And farro. But this dish. This dish finally brought it back to the forefront.
Totally reignited the spark. That's kind of a strange thing to say about polenta. Don't judge. I get very excited about food in general.
About These Healthy Turkey Meatballs
So let's chat about food … I mean, this meal. Simple, classic baked turkey meatballs.
Which you'll serve on crispy baked little polenta cakes.
And finally you'll top it all with a quick and easy homemade sauce and of course plenty of shredded parmesan and fresh basil.
If you're not in the mood for a slightly crispy polenta base, I think this would also be awesome over some creamy polenta.
Except for whatever reason I associate creamy polenta with the fall and winter. And it's still super hot and humid right now. So I just. can't. do. it.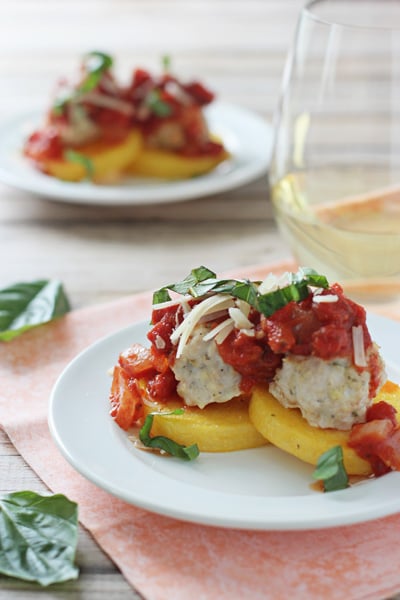 Additional Turkey Recipes You Might Enjoy!
Did you make this recipe? Rate and review it down below! I'd love to hear from you.
Ingredients
For the polenta:
1 (18 ounce) tube polenta, sliced ½ inch thick
For the meatballs:
1 ¼ pounds ground turkey (I use 93% lean)
2 tablespoons minced onion
⅓ cup panko breadcrumbs
1 large egg, lightly beaten
½ teaspoon salt
¼ teaspoon pepper
½ teaspoon dried basil
½ teaspoon dried parsley
For the sauce:
1 tablespoon olive oil
1 medium onion, diced
2 cloves garlic, minced
1 (28 ounce) can crushed tomatoes (I use fire-roasted)
1 teaspoon granulated sugar
½ teaspoon salt
¼ teaspoon red pepper flakes
½ teaspoon dried basil
½ teaspoon dried parsley
For serving:
freshly grated parmesan cheese
chopped fresh basil
Instructions
Preheat the oven to 375ºF.
To make the polenta:
Line a large baking sheet with parchment paper. Place the polenta rounds on the prepared sheet and mist the tops lightly with nonstick cooking spray.
Bake for about 25 to 30 minutes, until slightly crispy on the outside.
To make the meatballs:
Meanwhile, line a rimmed baking sheet with aluminum foil and then spray with nonstick cooking spray.
In a large bowl, add the ground turkey, onion, panko, egg, salt, pepper, dried basil and dried parsley. Mix to combine (but don't overwork the meat).
Form into meatballs, about 1 ½ inches in size and place on the prepared baking sheet (I get around 22 meatballs).
Bake in the same 375ºF oven for about 17 to 20 minutes, or until cooked through (165ºF on an instant-read thermometer).
To make the sauce:
Meanwhile, set a medium-large skillet over medium heat. Add in the olive oil. When hot, add in the onion and cook for about 3 to 5 minutes, until tender. Add in the garlic and cook for 30 seconds, until fragrant.
Add in the crushed tomatoes, sugar, salt, red pepper, basil and parsley. Let the sauce simmer gently for about 5 to 7 minutes, stirring occasionally, until it thickens slightly. Remove from the heat. Taste and adjust the salt and red pepper as needed.
Set a few polenta slices on each serving dish. Top with a few meatballs, spoon on some of the sauce and top with parmesan and fresh basil.
Notes
I think this would also be fantastic with ground chicken instead of turkey!
To avoid buying an extra onion for this recipe, use a small portion of the onion for the sauce for the 2 tablespoons needed for the meatballs.
Nutrition Information:
Yield:

6
Serving Size:

1
Amount Per Serving:
Calories:

310
Total Fat:

16g
Saturated Fat:

4g
Trans Fat:

0g
Unsaturated Fat:

10g
Cholesterol:

134mg
Sodium:

655mg
Carbohydrates:

13g
Fiber:

1g
Sugar:

3g
Protein:

29g
Nutrition data shown is an estimate provided by an online calculator and is for informational purposes only. It should not be considered a substitute for a medical professional's advice.