Bourbon Baked Peaches with Oatmeal Crumble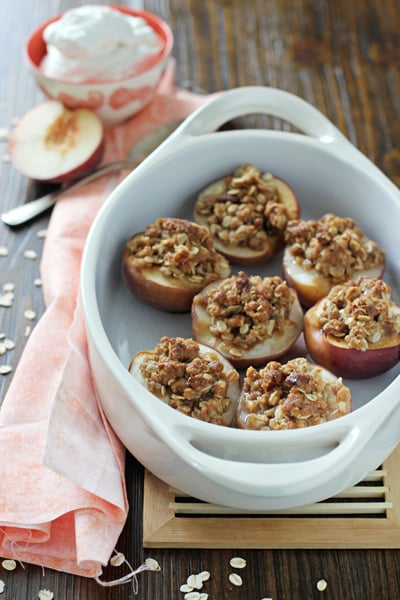 Warning. This is a picture heavy post. Because, I mean, just look at these gorgeous little peaches. I couldn't stop staring. And narrowing it down would have been like picking a favorite ice cream flavor. I just can't do it. I love too many to be forced to choose.
So let me tell you a story about these bourbon baked peaches. And encourage you to use bowls when you serve them. Otherwise you'll end up like me.
And embarrassingly trying to eat them off the floor. Like that episode of Friends with the cheesecake.
So let me paint the picture for you. I finish taking photos and putter into the living room, where my husband was sitting and watching TV, to ask if he wanted a bite. He says no (I mean really, what was he thinking passing on baked peaches at 10am??). And so I try to grab a big chunk with my fork while still standing there holding the plate you see below.
But these are slippery little peaches and so the entire thing proceeded to shoot right off onto the floor. I may have stood there in shock for a good few seconds. Before scooping it up, asking if it was still okay to eat, and then proceeding to eat it anyway before the husband had a chance to answer. Even though there was an entire tray in the kitchen. But how could you let these pretty little things go to waste?!
So just go ahead and use bowls, yes?
So this dessert. Warm, tender baked peaches topped with an oatmeal crumble / streusel. So good even at this point just by themselves. But then we need to go ahead and add a spiked bourbon whipped cream and a bourbon glaze. Because why not?
When you first top it with the whipped cream all warm from the oven it looks like that picture right there up above. Totally cool, totally pretty.
But then you give it a few minutes … and this happens:
Come. to. mama.
Let's look at it one more time a little bit closer: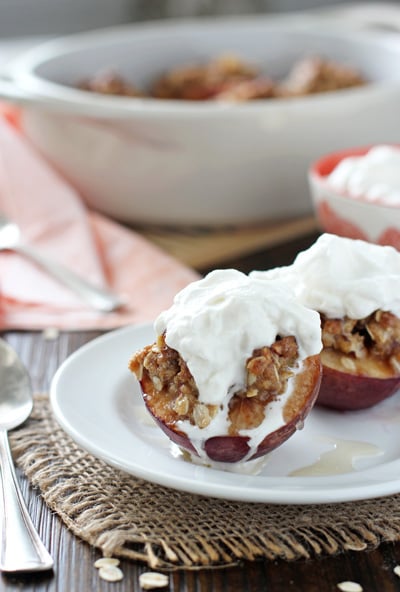 Swoon. That's the right stuff baby. Especially on a Monday morning.
Bourbon Baked Peaches with Oatmeal Crumble
Prep Time: 10 minutes
Cook Time: 25 minutes
Total Time: 35 minutes
Recipe for tender, bourbon baked peaches topped with an oatmeal crumble. Serve with homemade bourbon whipped cream and glaze!
Ingredients:
For the peaches:
4 medium peaches, halved and pits removed
¼ cup all-purpose flour
¼ cup rolled oats
¼ cup packed light brown sugar
¼ cup raw pecans, finely chopped
¼ teaspoon ground cinnamon
pinch of salt
3 tablespoons unsalted butter, melted
For the whipped cream:
1 cup heavy cream
2 tablespoons granulated sugar
¾ teaspoon vanilla extract
1 tablespoon bourbon
For the glaze:
½ cup confectioners' sugar
½ tablespoon bourbon
1 ½ to 2 tablespoons milk
pinch of salt
Directions:
To make the peaches – preheat the oven to 375ºF. Set the peaches (skin side down) in a baking dish (I use a casserole type dish – you can use whatever will fit the peaches).
In a small bowl, add the flour, oats, brown sugar, pecans, cinnamon and salt and mix until well combined (breaking up any clumps of the sugar). Pour in the melted butter and mix until combined and evenly moistened. Crumble the topping evenly over the peach halves in the baking dish. Bake for about 25 to 30 minutes, until the topping is golden brown and the peaches are tender.
Meanwhile, to make the whipped cream – add the cream, sugar, vanilla and bourbon to a large bowl. Whip with a hand-mixer on high until stiff peaks form (you can also do this in the bowl of a stand mixer with the whisk attachment). Set aside.
To make the glaze – whisk together the confectioners' sugar, bourbon, milk and salt until smooth. Add more sugar or milk to get it to the consistency that you would like.
To serve – set a peach on a serving dish. Top with whipped cream and a drizzle of the glaze.
These are boozy but if you don't like bourbon don't worry! Either cut back on it or eliminate it completely!